Big banners remind drivers that Albion still open for business while bridge closed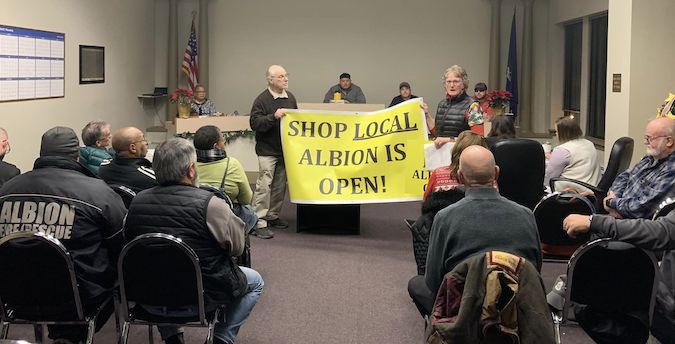 Photo by Tom Rivers
ALBION – Five large banners will soon be on the landscape in Albion, proclaiming "Shop Local – Albion is Open!"
Michael Bonafede and Karen Sawicz presented the banners during the Albion Village Board meeting on Tuesday evening. Two of the banners are currently up – one on Cobblestone Museum property in Gaines at the corner of routes 98 and 104, and the other on Rick Stacey's RS Automation property on Route 98, at the Countyhouse Road intersection south of the village.
The three other banners are planned at village parks: Carosol on Ingersoll and Caroline, Vets Park on Linwood and Brown, and Bullard Park on Route 31.
In addition, 20 smaller yard signs with the same message have been placed in the community.
Sawicz, owner of Lake Country Media, wants drivers to continue to go into the downtown and support local businesses. Bonafede owns the Pratt and Day building, and another historic building in the downtown that together are the home for several businesses.
Sawicz said more signage is also needed to help people, especially those unfamiliar with the community, follow detours with the Main Street lift bridge expected to be closed for about 18 months.