Bentley Bros. customer wins $100k grant from Kubota
Homesteads for Hope, 55-acre community garden in Rochester, eligible for another $100K
A community farm in Rochester has won one of five $100,000 grants from Kubota. Homesteads for Hope, a 55-acre community farm located along the Erie Canal, also is a customer of Bentley Brothers, which has offices in Albion and Brockport.
Kubota Tractor Corporation is offering the $100,000 grants as part of its 50th anniversary in the United States. The grants are intended to revitalize community projects.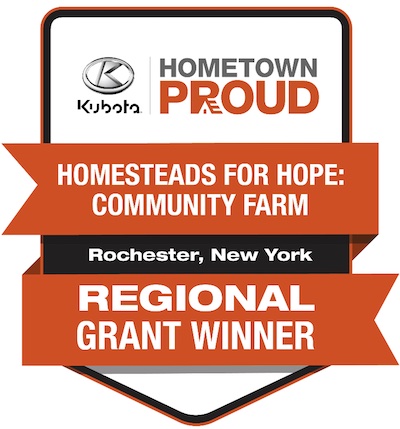 Each of the five winners now go to a public vote, with the top vote-getter receiving another $100,000 grant as the Community Choice Award winner. Every vote cast is entered into a separate sweepstakes for a chance to win a Kubota sub-compact tractor or zero turn mower.
Homesteads for Hope has grown in recent years while many non-profits in the special needs community did not survive the pandemic. Homesteads has been able to take in some of the people who had nowhere else to go.
The farm currently serves over 600 families and hosts over 3,000 visitors each year. This intentional community breaks down barriers with programs that use "nature's classroom" to teach adults with disabilities important life skills and how to work real jobs.
Kubota's $100,000 grant will be used to: (1) Expand their Social Garden Program for those with more challenging needs and mobility-based disabilities, (2) Double their 80-plot community garden and the program's impact, and (3) Renovate the estate home with new doors and windows to weatherproof the main program spaces for year-round use.
If awarded the additional Community Choice Grant, the organization will also be able to: (1) Finish the renovation on their 18th century historic barns to include new siding and electrical upgrades and (2) Pour new concrete pathways to increase accessibility.
These projects would allow Homesteads to triple the amount of people they serve and give them the momentum needed to start their eagerly anticipated inclusive housing village, which will give 250-300 people of all abilities a place to call home.
In the spirit of "Together We Do More," Kubota is asking for the public's help in selecting a winner for its Community Choice Award grant. From now until July 25 at 11:59 p.m. CT, the public is invited to visit KubotaHometownProud.com to cast a vote for one of the top five community projects.