Benefit auction proves winner for Cobblestone Museum
(Editor's Note: The Cobblestone Museum's Mother's Day celebration will be Saturday (May 13) and not on Sunday as was initially stated in the article.)
CARLTON – The Cobblestone Museum's annual membership dinner Wednesday night at Carlton Firemen's Recreation Hall brought out a record attendance, said Museum director Doug Farley.
"I am very happy with the event," Farley said. "We made a record $24,000, over and above what we normally do."
Proceeds from the evening help the museum pay its operating costs, Farley said.
The evening featured dinner catered by Zambistro's, a silent auction, live auction and raffles.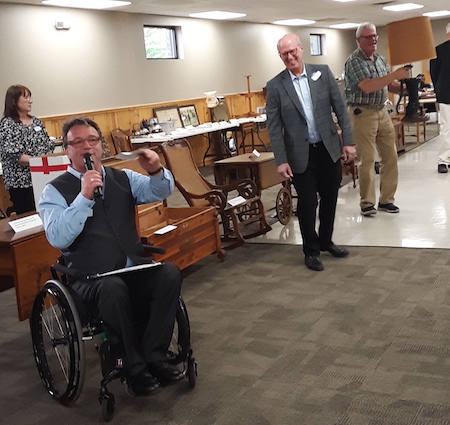 Randy Bower, retired Orleans County sheriff, has volunteered to be auctioneer all five years of the dinner.
"I was sheriff when they first asked me, and I went online and studied how to be an auctioneer, and then I practiced," Bower said. "I love the Cobblestone Society and wanted to be able to give back."
First assistant district attorney Susan Howard attended the dinner for the first time last year.
"I didn't know what to expect, but I had the time of my life," Howard said. "So I joined. I grew up around the corner from the Cobblestone Museum, and it makes my neighborhood much more interesting."
Lynn Williams of Medina came to the dinner for the first time last year.
"It's a nice evening for a good cause," she said.
Scott Schmidt of Medina said he supports the Cobblestone Society because it preserves the history of Orleans County.
"I am playing for the Cobblestone's organ tour in July, and I wanted to meet some of the people who potentially might be in my audience," Schmidt said. "We have such a unique area here with the historic buildings. It is intriguing to me how these beautiful buildings were built."
Success of the event was due in part to generous donations from the community.
The dinners were underwritten by Roy Bubb and John Nipher of Holley, K. Peter and Patricia Hurd and Gail Johnson, all of Albion.
The entire cost of the recreation hall rental was underwritten by Scott Schickling, certified public accountant/financial planner of Medina.
Other monetary donations were given by Farley and his wife Lois, David Mitchell of Albion, LeRoy and Shirley Bright-Neeper of Medina and Richard and Kim Remley of Albion.
Grace Denniston donated and prepared appetizers for the evening. A sheet cake made by Peggy Bropst of Kent was underwritten by Brenda Radzinski of Albion. Doreen Wilson of Albion paid for the cost of all the table coverings.
The Cobblestone Museum has a full schedule of special events planned throughout the year, beginning this spring with and art exhibit by Tom Zangerle in the Visitors Center.
Beginning on Saturday as part of a Mothers' Day celebration, an exhibit of 20 historic coverlets will be on display at the Visitors Center. Also, mothers will be recognized with complimentary tours and free gifts this Saturday.
Bill Lattin's educational program and exhibit on Victorian Mourning Art will be available May 19 at 6:20 p.m. for up to 12 guests, who must register in advance by calling 589-9013. The exhibit will continue in the Upper Gallery, featuring 20 recently added pieces for 120 artifacts altogether.
On May 20 and 21, the Cobblestone Museum will join with the New York State Landmark Conservancy to host an open house at the Cobblestone Church.
The annual summer solstice soiree is scheduled June 21, celebrating art and nature in outdoor setting beside Proctor Brook. Featured will be plein-air artists Tom Zangerle, Pat Greene and Arthur Barnes, and a cadre of musicians.
The annual patriotic service will take place July 2 in the Cobblestone Church, with patriotic readings, stirring songs and an old-fashioned picnic on the side lawn.
Maarit Vaga will organize a progressive organ concert on a date to be announced in July. Dinner at a local restaurant will follow the tour.
In August, a tour of historic homes will be announced, featuring a self-driving tour to visit examples of regional historic architecture.
August 12 is the date of the Cobblestone Museum Flea Market, the second year for the event, with outdoor booths to attract bargain hunters.
The fall open house is Sept. 9, with artisan craftsmen and re-enactors re-creating life in the 19th century.
Visitors can step back in time in October when the museum sponsors Music of World War I at the Vagg House. Selections will be shared on and Edison cylinder victrola and an upright player piano. Local musician Raymond Santoro will play the piano and lead this music-filled event.
A ghost walk is scheduled Oct. 7, with a rain date of Oct. 8. More than 25 volunteer thespians will be in period costumes.
The festively decorated Cobblestone Church will be the setting for a Christmas Carol Sing in December, featuring Christmas traditions, the Saint Lucia celebration, carol sing and readings.
The popular Christmas Tour of Homes will also take place in December, featuring a self-driving tour and several extensively decorated homes open for visitors.
The ambitious schedule of events is capped off by the anticipation of building a new Orleans County Visitors Center in the Civil War-era home across the street from the Cobblestone Church. Fundraising for the project has exceeded $800,000, Farley said.
He said construction will begin as soon as plans are completed and the cost is determined.