Bench for 2 Lyndonville grads sends message that 'life is precious'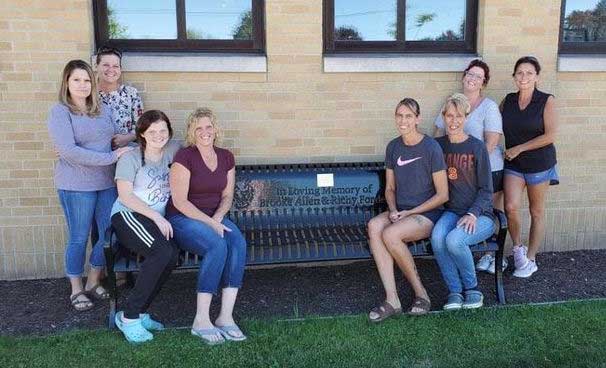 Provided photo
LYNDONVILLE – This bench was added to the Lyndonville school campus last Thursday by the Lyndonville Sports Boosters. It is in memory of Brooke Allen and Richard Forder.
They passed in a car accident on Oct. 10, 2019 on their way to work at Lake Ridge Fruit, an apple packing facility on Route 104 in Gaines.
Brooke's mother Mandi Howell is seated at left next to Brooke's name on the bench. Christine McIntyre Miller (Richy's mom) is sitting to the right next to his name.
Others pictured are family members and Lyndonville Sports Boosters members. The Boosters wanted the bench to remind the two families of the everlasting love and support the school and community has for them. The bench is also a visual reminder for Lyndonville students that life is precious and that Brooke and Richy will live on in our hearts forever.
Allen, 21, was a 2016 Lyndonville graduate. She loved the outdoors. She was in band and chorus, played volleyball and attended Orleans-Niagara BOCES for cosmetology. She was a devoted mother to her son, River.
Forder, 20, a 2018 Lyndonville graduate, enjoyed fishing and spending time with his nephews. He was a key player on Lyndonville's playoff basketball teams.