Beloved root beer dispenser returns to former Fischer's Newsstand
ALBION – David Snell remembers standing in line at Fischer's Newsstand, and paying 5 cents for a paper cup of root beer.
Lots of kids would gather at Fischer's for a cup from the Richardson Root Beer Barrel Dispenser.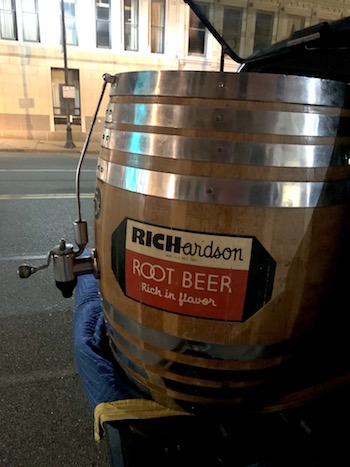 Snell, owner of Snell Realtors, for years ran his business next door. When Fischer's closed in August 2015, Snell soon acquired the property and expanded his real estate offices next door.
He has wondered about the old root beer dispenser, thinking it would be a nice addition to the office as a display. Instead of dispensing root beer, Snell thought maybe it could dispense daily trivia for people walking by the front windows.
Snell's father-in-law Darryl Preston is an antique dealer with a business in Allen, Mich., which he said is "The Antique Capital of Michigan." Snell was talking to his father-in-law about the old root beer barrel, wishing he could get it back on site in Albion.
Turns out Preston, a former Albion resident, is the one who bought it. He said he acquired it about 25-30 years ago. He has had it on display at his antique business, and it hasn't been for sale despite drawing a lot of interest.
When Snell realized his father-in-law had the barrel, he asked that it come "home" to the Fischer's site. Preston agreed and drove it to Albion recently.
"I get questions about it all the time," Snell said about the barrel, which has left a lasting impression on many Albionites. "I want to display it for the community."
He is working on those details to best showcase the barrel. He said he is grateful his father-in-law was willing to part with it.
"Darryl was very generous to bring it back," Snell said.