Bellavia comes home to serve as Lyndonville's parade grand marshal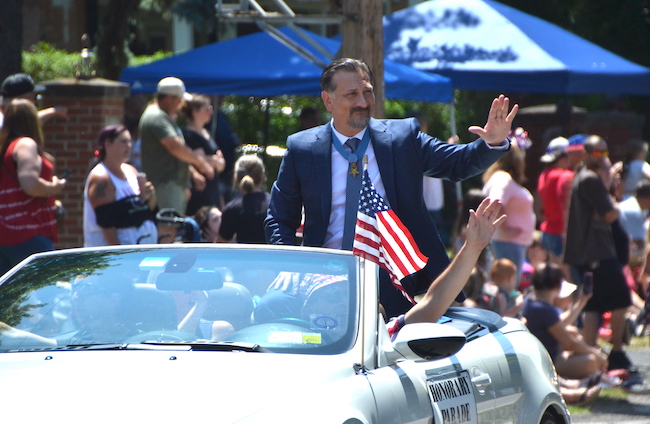 Photos by Tom Rivers
LYNDONVILLE – David Bellavia waves to people along Main Street during Lyndonville's Fourth of July parade today.
Bellavia, a Lyndonville grad, is a Medal of Honor recipient. He received the medal from former President Donald Trump on June 26, 2019 at the White House.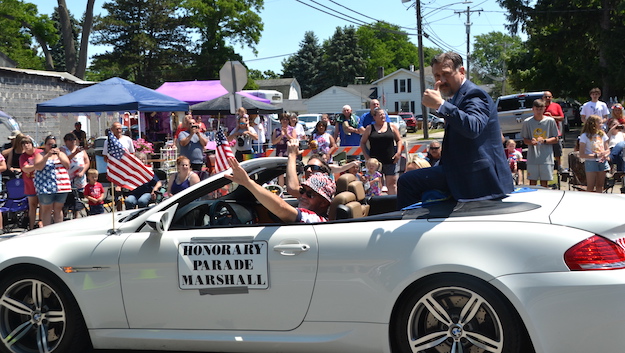 Bellavia served as the grand marshal of today's parade which started at noon and ended at about 1:10 p.m. Scott Schmidt, the county's chief coroner, is driving the car.
Bellavia is the first living veteran from the Iraq War to receive the nation's highest military medal. He was honored for his acts of valor on Nov. 10, 2004 in Fallujah, Iraq.
Bellavia led an infantry squad clearing houses of insurgents, saving the lives of the members of his unit. He is the first living Iraq War veteran to receive the nation's highest honor for military service.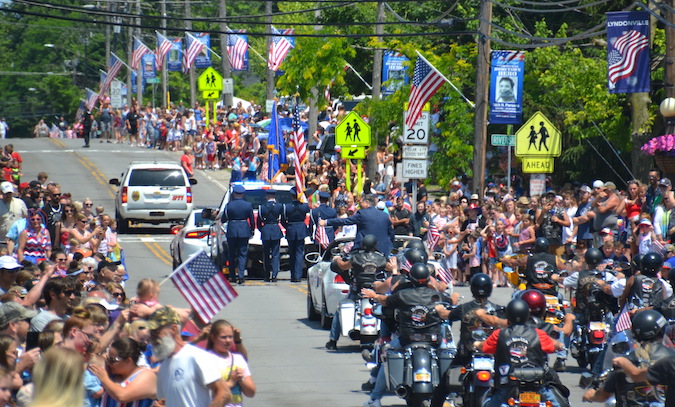 There was a big crowd out along Main Street for the first Fourth of July parade in Lyndonville since 2019. The Independence Day festival was cancelled in 2020 and the celebration returned last year, except without a parade.
Bellavia is one of five county residents to receive the Medal of Honor. Bellavia has said he is very appreciative to have grown up in Orleans County, where veterans are respected and people are encouraged to serve their country in the military.
He is a radio talk show host for WBEN and also travels extensively as an ambassador for the Army, speaking at colleges, high schools, bases and other events.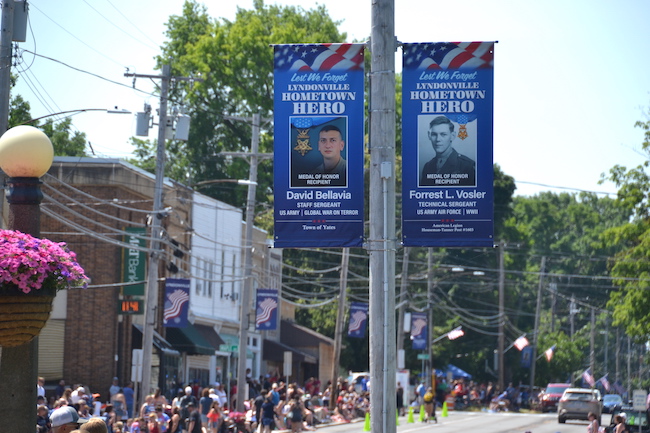 Bellavia and Forrest Vosler, another Medal of Honor recipient from Lyndonville, are recognized with Hometown Hero banners on Main Street.
Vosler was assigned as a radio operator and aerial gunner aboard a B-17 Flying Fortress during World War II with the 358th Bombardment Squadron, 303rd Bombardment Group stationed out of England.
On Dec. 20, 1943, Vosler's fourth combat mission. The plane was under fire and had two engines knocked out with the aircraft windmilling out of control. When a fellow aviator was knocked unconscious, Vosler maneuvered himself into the tailgun. Another 20-mm shell hit the aircraft, sending shrapnel into Vosler's chest, face, and eyes. He continued to deliver defensive fire upon German aircraft until the attacks subsided. Nearly out of fuel and losing altitude quickly, the crew jettisoned every piece of equipment to lighten the plane.
Vosler, severely wounded and floating in and out of consciousness, begged the crew to throw him out of the plane to reduce weight. As the aircraft plunged into the frigid waters of the North Sea, Vosler crawled out of the aircraft onto a wing. A passing Norwegian trawler quickly picked up the crew and transferred them to a British rescue vessel. One of Vosler's eyes had to be removed, and the other required extensive surgery.