Bell ringers needed for Red Kettle campaign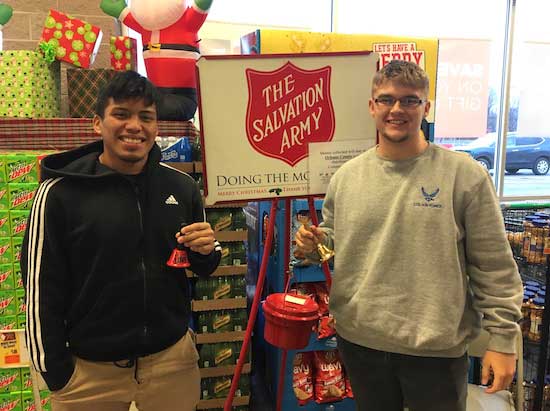 Photo by Tom Rivers
ALBION – These members of the Albion High School Honor Society, Jessy Cruz and Kirk Ellison, rang the bell for the Red Kettle at Tops in Albion on Tuesday. The Honor Society is volunteering as bell ringers to help raise money through the Red Kettle campaign.
Community Action of Orleans & Genesee manages the Red Kettle in Orleans County and has set a $25,000 fund-raising goal this year. The agency uses the funds to help low-income residents with emergency lodging, food, clothing, some medical expenses and to avoid having their water shut off. Each person is capped at $150 through the emergency fund.
Bell ringers are needed in Albion at Tops, Save-A-Lot and Wal-Mart; in Medina at Tops; in Holley at JP's and in the Public Square by Sam's Diner and the Eastern Orleans Community Center; and in Lyndonville at the E-Z Shop gas station.
Community Action also has countertop kettles at other spots in Orleans County. All of the funds from the Red Kettle drive are used to help people in Orleans County. For more information about volunteering, contact one of the coordinators. In Albion, contact Michelle Figueroa, case manager at Community Action, at (585) 589-5605; In Medina, call Ronnie Barhite at 585-233-7249. In Holley, call Rachel Escobar at 585-638-6395.