Behind the letters in the Medina Doors poster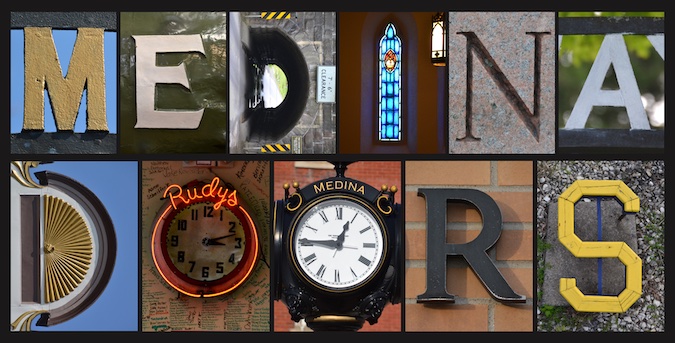 MEDINA – I have a new poster out of Medina Doors. It arrived from the printer on Tuesday. I've been working on this, on and off, for a few years.
The poster features 22 doors in the Medina community. Many of them are on prominent structures and are exceptional entrances. Others are a bit more whimsical and don't really have architectural power. But they are well known on the Medina landscape.
I've seen these type of posters before for Buffalo, Rochester and other cities. They typically list the city in italics type. I wanted to take letters or shapes from the community to spell out M-E-D-I-N-A and D-O-O-R-S to add even more of Medina to this project. I challenged people in an article on Wednesday to identify where I found those letters.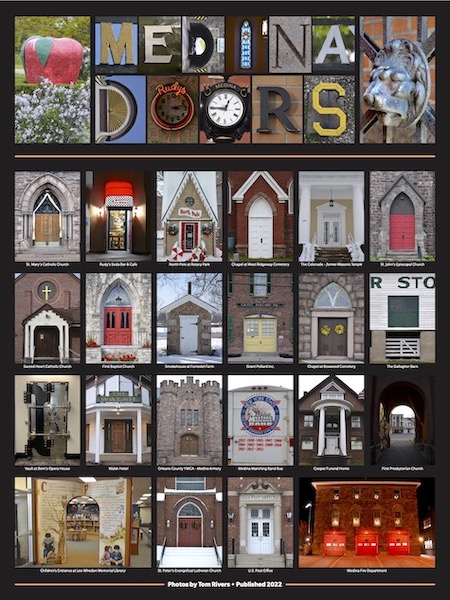 Whoever could correctly identify the most letters would win a poster. Robin Wehling was correct on five out of 10. She is the winner. (I gave everyone the letter N. It comes from a grave at St. Mary's Cemetery.)
Here is the back story on the other letters:
M – This is from the sign at the Millville Cemetery.
E – This comes from the Heinz pickle which is located inside the Medina Railroad Museum.
D – I turned the Canal Culvert on its side and it made a distinctive letter D.
I – This is a stained-glass window at St. Mary's Catholic Church.
N – In case you missed it above, it's from a gravestone at St. Mary's Cemetery.
A – This A comes from the sign at the West Ridgeway Cemetery at the corner of Marshall Road and Route 104.
D – The second D is from the top of the Bent's Opera House. The D is turned sideways.
O – The first O is from the clock inside at Rudy's, a diner on West Center Street.
O – The second O is the clock at Rotary Park in downtown Medina.
R – This letter comes from the sign on the Lee-Whedon Memorial Library.
S – This one is from the sign for Lions Park along the Erie Canal, between the lift bridge and the Glenwood Avenue bridge. The sign has letters that are mounted on the ground.
The posters are available at Author's Note, the bookstore on Main Street in Medina and also the office in Albion for the Orleans Hub and Lake Country Pennysaver at 170 North Main St.
I'll be signing posters and giving a presentation at 7 p.m. on June 30 at Author's Note. That store also is able to mail these for people out of the area.