Barre topped county in voter turnout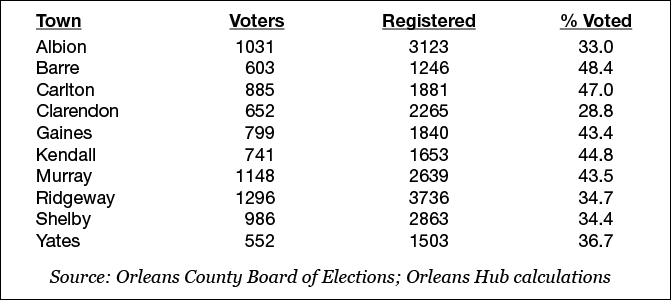 BARRE – The Town of Barre, which had the only three-person race for town supervisor in Orleans County, led the 10 towns for voter turnout during Tuesday's election.
In Barre, 48.4 percent of eligible voters went to the polls. Sean Pogue, Robin Nacca and Cyndi Van Lieshout all were on the ballot to be town supervisor. Pogue won and will succeed Mark Chamberlain, who is retiring from the post.
Carlton had the second highest turnout at 47.0 percent. The highway superintendent race was the most hotly contested in Carlton with highway employee Kurt VanWyke defeating his boss, David Krull, for the top job.
Kendall, which had a hard-fought race for town clerk with Amy Richardson winning re-election, had the third highest turnout at 44.8 percent, above Murray and Gaines which had fierce battles for town supervisor.
There were five towns that topped a turnout of 40 percent. The county rate was 38.2 percent on Tuesday (8,693 voters out of 22,739 registered).
The last local election was two years ago and the turnout then was also 38.2 percent. The race for sheriff highlighted that election. Two years ago Yates topped the towns in turnout at 50.2 percent. That was the election when Jim Simon won town supervisor in a write-in campaign, defeating the incumbent. Simon was unopposed on Tuesday.