Barre begins 3-day bicentennial celebration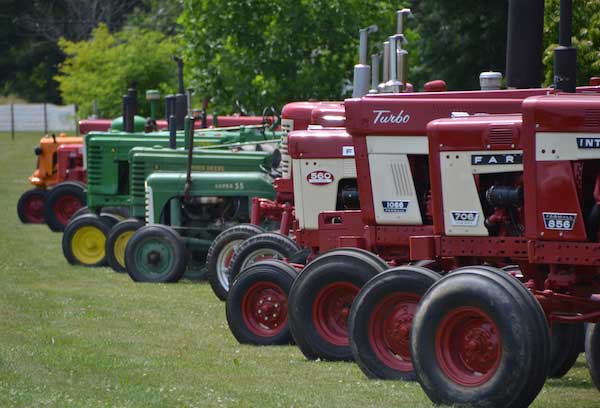 Photos by Tom Rivers
BARRE – Tractors are lined up along the driveway to the Barre Town Park on Route 98. The park is hosting concerts, crafters, food vendors and other entertainment today.
Barre is celebrating the town's bicentennial with a series of events today through Sunday.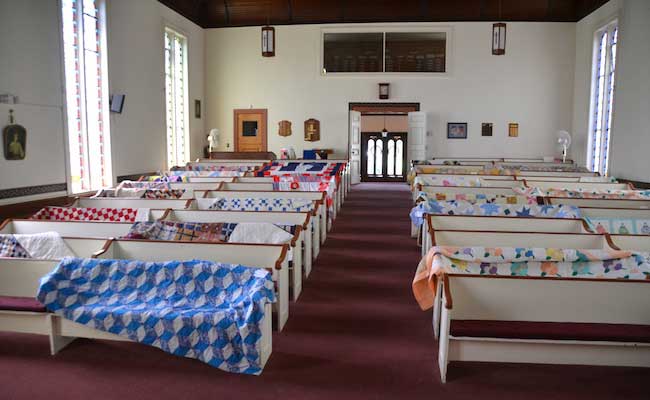 There is a quilt show at the West Barre United Methodist Church with 22 quilts.
"Some of them have very unique stories," said quilt show organizer Judy Durrant. "The quilts are something that goes along with our history."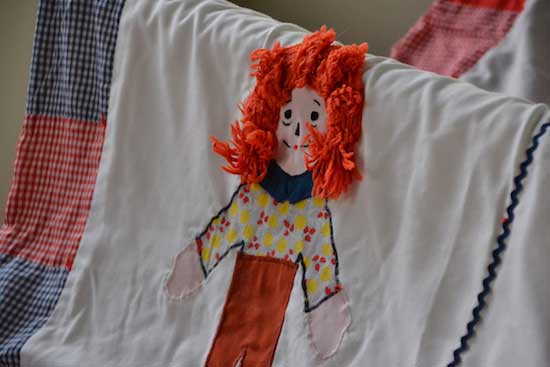 Marge Davis made a quilt with a Raggedy Ann and Andy.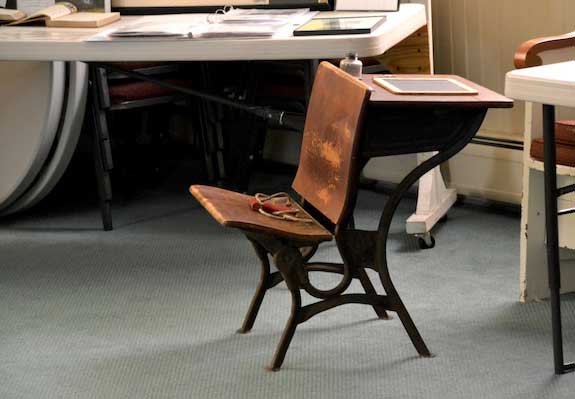 The West Barre Church also has a display about the one-room schoolhouses in Barre, including this desk from a school on Hemlock Ridge Road and Eagle Harbor Road. That school closed in 1957.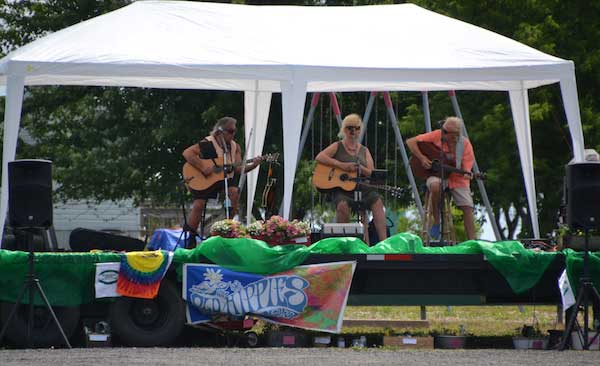 The Old Hippies performed this afternoon at the Barre Town Park.
Here is the schedule for the rest of today:
12-5 – West Barre Quilt Show, West Barre United Methodist Church, Eagle Harbor Rd.
2 p.m. – Festival Opens
2 to 5 – Crafters
2 to 8 – Food
2:30 to 4:30 – Music, Old Hippies
5 – Pull-in Tractor Show
5 to 7 – Music, The Remediators
7 to 9 – Music, Kelly's Old Timers
9 – Park Closes
Saturday, June 30
9:30 a.m. – Veterans Memorial Dedication at the Town Hall, West Barre Rd.
10-5 – Orleans County Genealogist Hollist Canham will be at Town Hall
11 – Parade
12 (noon) – Opening Ceremony at Town Park, National Anthem, Flag Raising, Skydiving
12 to 9 – Events open at Town Park: Crafters, Pie Sale, Food, Petting Zoo, Farm Market, Games, Photo Contest Display, Youth Group Activities (Rock Painting etc.)
12 to 2 p.m. – Music, Kendall Community Band
12 to 5 – Quilt Show West Barre United Methodist Church, Eagle Harbor Rd.
Events open: Pine Hill Airport – Activities, Food
Self Guided Historical Driving Tours – Maps available at Information Booth
1 to 5 p.m. – Youth (12 and up) Obstacle Course-North side of baseball diamond
1 to 5 p.m. – Tug-of-War. Form your team now (Young vs Old, Family vs Family, Country vs Townie, Girls vs Boys, Beards vs Non-Beards, etc.) Sign up for a time slot at park.
1:30 to 2 p.m. – Kids Trike Race
2 to 2:30 – Kids Dump Truck Race
2:30 to 3 p.m. – Kids Pedal Tractors
2:30 to 4:30 p.m. – Music, Ghost Riders
3 to 3:30 p.m. – Kids Stick Horse Races
4 to 7 p.m. – Chicken BBQ, Barre Center Presbyterian Church-presold tickets only
4:30 p.m. – Upcycle Auction
5 p.m.  – Cruise-In Car Show
5 to 7 p.m. – Music, Old Time Hoedown
5:30 p.m. – Beard Contest Judging
6 p.m. – Caller Margaret Mathews Community Square Dance with Old Time Hoedown providing the music. You don't need any experience. Each dance is taught by the caller
7:30 to 9:30 p.m. – Music, Tom Keefer & Celtic Cross
9:30 p.m. – Fireworks
10 p.m. – Park Closes
Sunday, July 1
11 a.m. – Church service at Barre Town Park
12 (noon) – Potluck Lunch-Bring a dish to pass and a chair.