Barn in Ridgeway destroyed in fire, more than 50 animals killed
Horse gets out but turkeys, chickens, pheasants and rabbits don't survive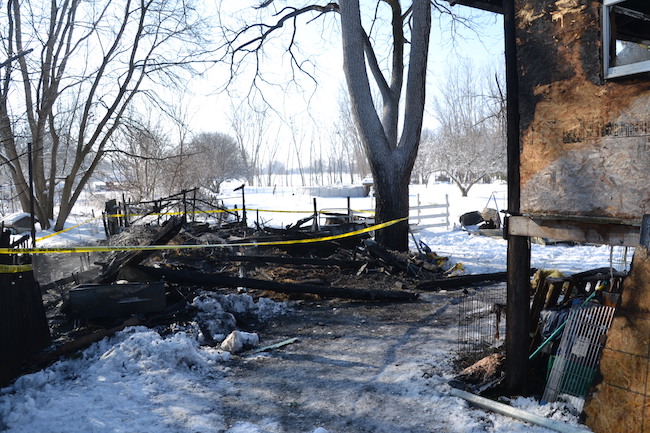 Photo by Tom Rivers
RIDGEWAY – A barn at 10320 Ridge Rd., just east of the Niagara-Orleans County line, was destroyed this morning by a fire.
Firefighters were dispatched to the scene at 7:26 a.m. and arrived to see the barn completely engulfed with flames, said Kyle Morgan, the Ridgeway second assistant fire chief.
The fire also damaged the back porch of the house, but firefighters were able to prevent the blaze from spreading beyond the porch and also to a neighboring home.
Kelly Waters, owner of the property, said a passerby banged on the door in the morning to say the barn was on fire. Waters said a horse got out of the barn, but other animals perished in the fire, including 10 turkeys, 30 chickens, 14 pheasants and four rabbits.
Waters, a former firefighter, said he took many precautions to keep the barn safe.
"Right now we're not sure what happened," he said about the cause of the fire.
Ridgeway firefighters were joined at the scene by Medina, Lyndonville, Shelby, Middleport and Hartland.
Morgan said a nearby fire hydrant was buried in snow. Firefighters had to shovel out near the hydrant before they could use it for water. Morgan urged people to clear snow from hydrants.