Barbershops, hair salons will close temporarily after today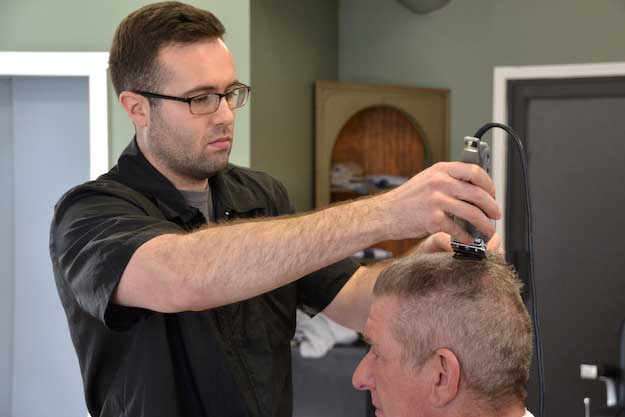 Photos by Tom Rivers
ALBION – Zack Dugan gives a haircut to Frank Strasburger today at Zack's Barbershop on Main Street in Albion.
Dugan has been busy the past two days since the governor announced barbershops and hair salons are being required to temporarily close at 8 p.m. today until further notice. The governor issued the directive Friday morning as an attempt to slow the spread of the coronavirus. The governor announced this morning the state now has more than 10,000 confirmed cases of Covid-19.
Dugan has been a barber for seven years and has owned his own business in Albion since 2014.
"Everything will work itself out in time," he said. "Hopefully once I get back up and open when this is over people will storm in to get their hair cut."
Strasburger, owner of Frank's Auto Center in Albion, knew this could be the last day for a while to get a haircut. He said his business has suffered during the virus shutdown, with people cancelling appointments for car repairs or to buy a vehicle.
"I'm hoping this won't last too long," he said about the slowdown to try to curtail the coronavirus.
Dugan, 30, urged people to not be too stressed by circumstances and try to enjoy more time at home.
"It's a great opportunity for people to spend time with their families," Dugan said. "It will slow down life a little bit."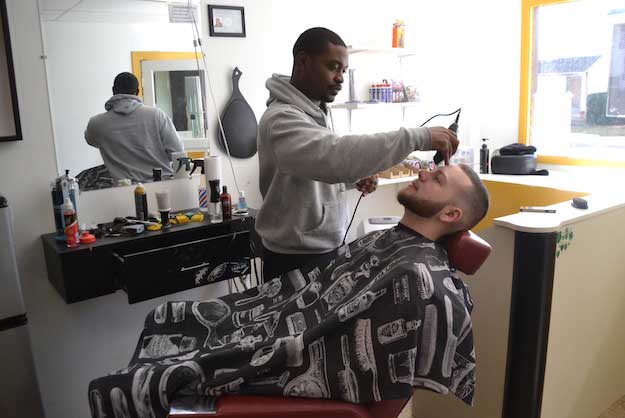 Marcell Taylor, owner of Absolute Xquisite Cutz on East Bank Street in Albion, gives a hair cut to Dan Perl of Elba today.
Taylor runs the business with another barber. They are open Tuesdays, Thursdays and Saturdays.
"It's going to hurt," Taylor said about closing the business. "But in the bigger picture it's better for everyone to help slow this virus down. You have to take a short-term loss for a longer-term gain."
Taylor also works as a regional administrator for PathStone and was required to work from home this past week.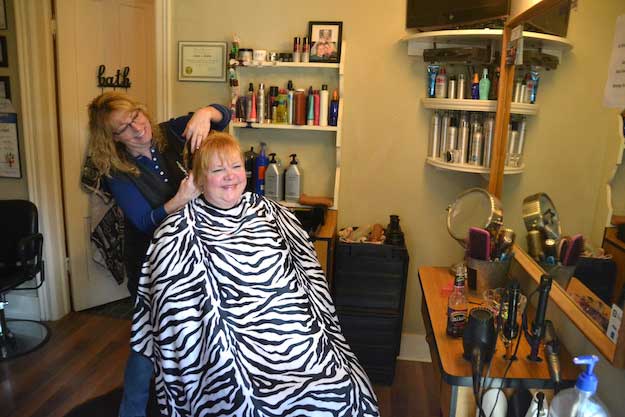 Lynn Burgess, owner of Lynn's Salon on West Park Street in Albion, shares a light moment with Debbie Prest during a haircut.
Burgess has been cutting hair for 20 years. She was planning to close temporarily after Orleans County announced on Thursday afternoon the county had its first confirmed case of coronavirus.
Burgess said she works with many senior citizens and didn't want to put them at risk, or any of her other customers and her family.
She has a list of customers she will call when she is given the OK to open.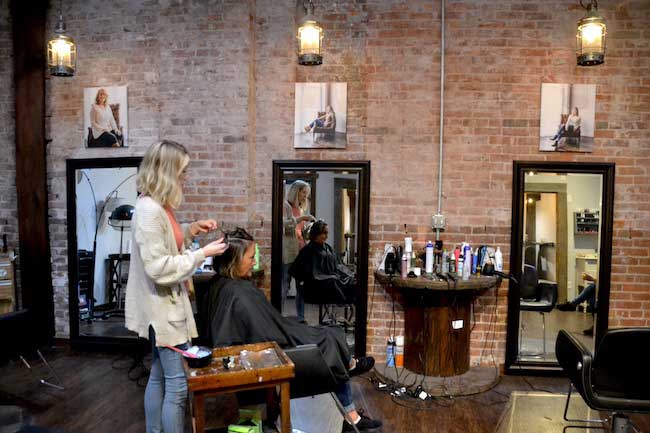 Amber Mogle, owner of the Roots hair salon in Albion, gives a haircut to Carrie Moyer of Albion. Mogle has owned Roots for about 2 ½ years and has been working in Albion the past 10 years.
On Friday when she received the notice from the state that she would need to close indefinitely.
"I've already cried over it," she said. "There's nothing else I can do about it. You just have to deal with it."
Three hairdressers and one nail technician work at Roots. Mogle called people with appointments next week and is trying to get in as many people as possible before closing at 8 p.m. today.
"I would feel much more relieved if I knew how long this would last," she said. "I'm thankful the community here has always supported us."