Ballard praised for 'superb job' as county historian
'He brought out crowds of people. What historian is able to do that?'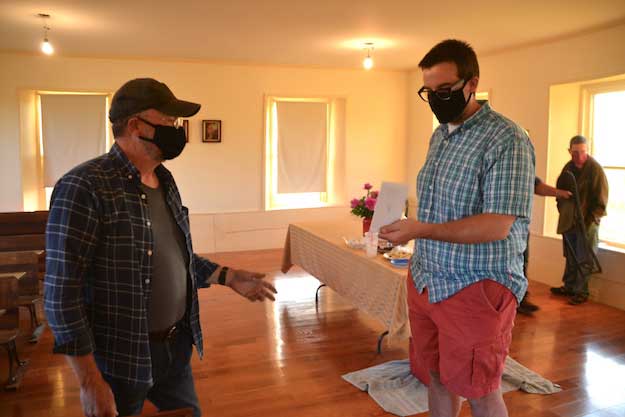 Photos by Tom Rivers
ALBION – Bill Lattin (left), the retired Orleans County historian, presents a card to Matt Ballard, who followed Lattin as historian and served in the role for more than five years. They are shown Monday evening inside the cobblestone schoolhouse on Gaines Basin Road.
Ballard has resigned as county historian. He is leaving Orleans County in about two weeks to take a position at a college in North Carolina. He will be assistant director of Collection Strategies at Davidson College.
Lattin said Ballard put in tremendous effort in a part-time position, while also finishing up a master's degree and working full-time at Roberts Wesleyan College in North Chili as director of library services.
Ballard did an in-depth column each week on local history that was featured in the Orleans Hub and The Daily News in Batavia. He also led many historical tours at cemeteries and a very popular tour of downtown Albion that attracted several hundred people.
"This is a real loss for the community," Lattin said about Ballard's resignation and his impending move to North Carolina. "It's going to be a big loss for local history to see him move away. It's really a shame. He's done a superb job."
Lattin teamed up with Ballard in some of the cemetery tours. Lattin watched Ballard grow in the role, especially in the presentations, sharing details of lives from more than a century ago. Ballard would sometimes dress in period costumes for the tours.
"He had a good spiel for each tour," Lattin said. "He is a wonderful presenter, and he did as a one-man act. He brought out crowds of people. What historian is able to do that?"
Bill Lattin served as historian for 35 years before being succeeded by Ballard in February 2015. Lattin said Ballard did wonders organizing the Orleans County Department of History records, including creating an online database.
"He deserves all kind of accolades," Lattin said. "It's going to be big shoes to fill, not only for county historian but as the president of historical association, which is a position no one wants to do."
Monday's meeting also was the first chance for the Historical Association to see several recent improvements at the schoolhouse.
It has a new hardwood floor, which was installed by member Rick Ebbs. The inside walls have been painted by Jerome Ebbs.
The building from 1832 was used as a schoolhouse until 1944 was on the verge of falling down, until a group of volunteers put on a new roof and stabilized the building.
Volunteers from the Historical Association in 2015 cleared most of debris from the inside of the former school. Many pioneer children in Orleans County were taught at the school, which also was used for countless town meetings.
The building also was listed on the State and National Registers of Historic Places in 2017, and a historical marker was added in front to denote its significance. Lattin believes it is the oldest cobblestone building in the county.
The 913-square-foot building hadn't been used much since it was closed as a school in 1944. Nor had there been much upkeep of the building until 2015.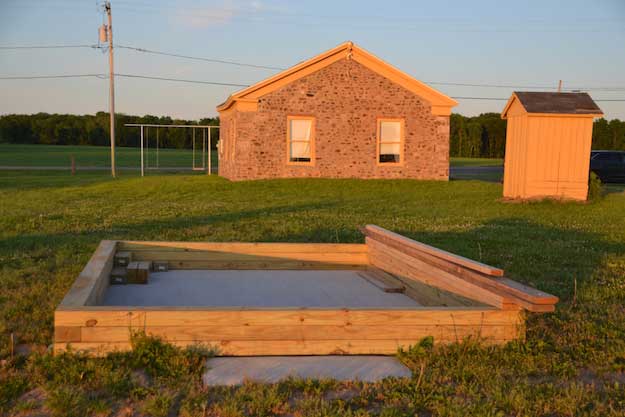 Later this summer a log cabin will be relocated behind the schoolhouse at this spot. The privy behind the schoolhouse was recently donated by Irene Roth and her daughters, Chris Sartwell, Marge Page and Arlene Rafter.
The log cabin will be moved from the home of Pat and Ralph Moorhouse on Linwood Avenue in Albion. The cabin was built in 1930 by Boy Scouts.
The cabin is 10 feet by 14 feet and about six feet tall at the peak.
Rick Ebbs, a local contractor who has been working on restoration work at the schoolhouse, will lead the effort to move the log cabin.