Bailey's Septic has a new owner after 40 years in same family
CARLTON – Brian Bartlett says he will miss a business dealing with something most people don't give much thought to – unless their toilet stops flushing.
Bartlett last month sold Bailey's Septic to Jim Arnold. The business was started by Bartlett's grandfather, Paul Bailey, who originally had the business focused on drilling wells. As more public waterlines were installed in the county, replacing wells, Bailey shifted to pumping septic systems.
Bartlett, 62, has been part of the operation for 50 years, since he was a kid. Bailey's started pumping septics in 1977 and that became the focus of the business. For a few years Bailey's also rented out porta-potties.
Tony Sanders, the owner of Albion Bower's Plumbing and Heating, often reached out to Bailey's for a pump truck. Sanders had inquired in recently if Bartlett would be open to selling the business. The time wasn't right until this spring for Bartlett.
Sanders knew the right person to take over the business. His stepfather, Jim Arnold, was in Oklahoma, working a demanding job for FedEx. Arnold and Sanders' mother, Angel, wanted to return to the Albion area to be closer to family, including Tony's three kids.
They moved back on April 1, with Arnold running Bailey's the past three weeks.
"Family is why we came back," said Arnold, a Middleport native. "The business is a bonus."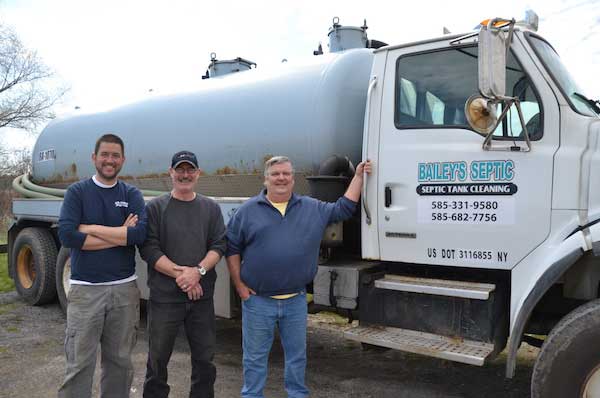 Arnold was working at St. Gobain in Albion when he was offered a buyout in 2009. He started a new career in Oklahoma.
The transition back to Albion happened quickly, with the Arnolds selling their home within a week on the market and starting in the septic pumping business right away.
"God has blessed us," Arnold said. "It has been so smooth."
Arnold spent a week with Bartlett, visiting customers and pumping septic systems. The sewage is the trucked to the Albion sewer plant on Densmore Road.
"People will call me crazy but I'm enjoying it," Arnold said about the new career. "It's gratifying to see peoples' faces when they can flush their toilet again. It's the little things. I really enjoy serving the community."
The two businesses will eventually operate out of the same building on Route 98 in Carlton, across from the former Harbor Pointe golf course. Bartlett used that site for the two vacuum trucks.
Sanders praised Bartlett for building up the septic pumping business. Most of the clients have their septic systems pumped every three to four years.
Sanders uses a site behind Crosby's in Albion as the base for his plumbing operation. He wants to move it to the Carlton site where there is more room.
"The two businesses will work hand in hand," Sanders said. "It's a good marriage."