Axe throwing comes to Medina at 810 Meadworks
MEDINA – A local business is tapping into a hot trend by opening an indoor axe throwing facility. 810 Meadworks had an open house on Sunday where people were welcome to try out 810 Axes.
Indoor axe throwing has become very popular at bars throughout the country. 810 Axes will be forming leagues in September and also welcomes people to give it a try.
"We thought it would be a fun thing to do in Medina," said Tim Elliott, the axe range manager for 810 Meadworks.
Elliott helped Bryan and Larissa DeGraw, owners of 810 Meadworks, turn a back room at 810 Meadworks into the axe throwing range. The site at 113 West Center St. is next to the Beegarten, 810's performing arts venue that hosts concerts most Saturday evenings.
810 put in two lanes for axe throwing. Each lane has two boards with a bullseye worth 5 points. Other close throws are worth 1 to 4 points, depending on how close they are to the bullseye.
They also put a metal roof on the area and added fencing in each lane. Elliott said safety is a top priority for participants.
810 made the lanes to meet the rules for the World Axe Throwing League.
Participants need to stand 12 feet away. The center of the bullseye is 5 feet up from the ground.
Josh Cogovan, 37, of Middleport tried axe throwing on Sunday and was sticking bullseye after a few throws. He can see why people like the activity.
"It's something different," he said. It's user-friendly. Just about anyone can do it."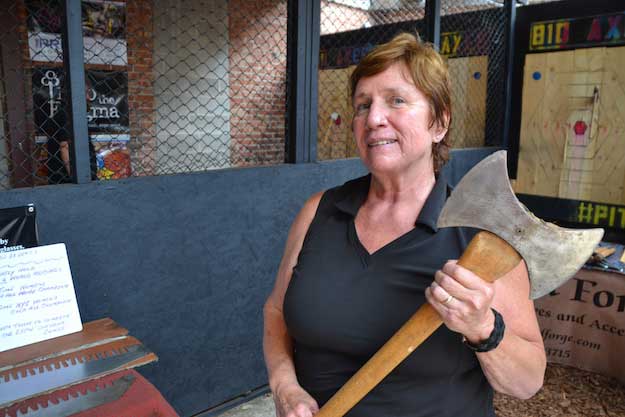 Mary Dooley of Waterport, a former nationally ranked lumberjack and axe thrower, met with the public on Sunday at 810 Axes to talk about the sport. 810 Axes is different from her competitions, where there is a longer distance to throw and it is based outdoors. Dooley competed in ESPN's "Outdoor Games." She holds six world records and is a two-time women's overall champion.
She liked the energy at 810 Axes on Sunday.
"It's an amazing thing," Dooley said watching the young adults give axe throwing a try. "This new generation is more extreme and adventurous."
She praised the DeGraws and Elliott for developing the facility in Medina and for wanting to bring a popular pastime to Medina.
"Why not be on that edge where it is new and exciting?" Dooley said. "You don't have to be athletic to do it."
810 Axes will soon have league signups available on the 810 Meadworks website. The axe throwing is a new addition to the meadery which is celebrating its five-year anniversary next month.
Teams for the leagues will require four people and must be co-ed with at least one woman. The cost is $20 per person for about an hour of axe-throwing to be in the league. The matches in the league consists of three sets of five throws for each team member. The most points a participant can get in one set is 25 (5 points each for five bullseyes).
The winner of each set during league play will get a free drink from 810 Meadworks. Elliott said there will be other pop-up tournaments and chances for the public to play.