Author praised for honoring pioneer spirit of WNY settlers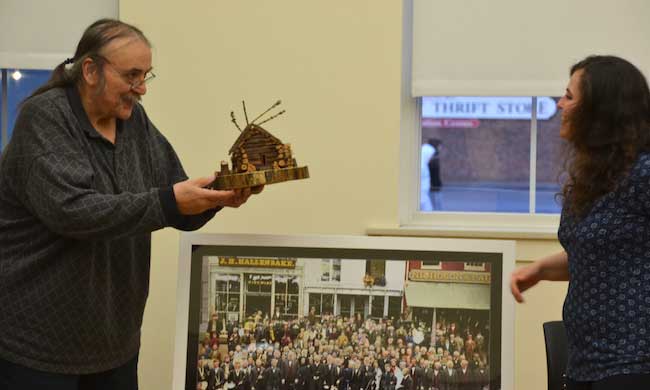 Photos by Tom Rivers
ALBION – Melissa Ostrom of Holley smiles after receiving a miniature log cabin created by Al Capurso of Gaines in appreciation for her book, The Beloved Wild, which focuses on pioneer residents to Orleans County and Western New York.
(The large group photo between Capurso and Ostrom shows a colorized version of a picture from the 1860s of pioneer residents in Orleans County.)
Ostrom discussed her book and signed copies of The Beloved Wild on Thursday evening at the Hoag Library. Capurso, president of the Orleans County Historical Association, has created several of the log cabin scenes in honor of pioneer residents. He made the cabin for Ostrom in the style of the home made by Gideon, one of the book's main characters who settled in the Town of Gaines. His sister Harriet and her beau, Daniel Long, assisted in building the log cabin.
The Beloved Wild was published last month by Macmillan and highlights the courage of pioneers, who were typically only teen-agers when they settled in WNY.
This is a debut young adult fiction novel by Ostrom, a former Kendall High School English teacher who stepped back from that role to focus on writing.
Harriet Submit Winter is the main character in the book. She is expected to stay home in New England and cook and tend to her younger siblings. She refuses. She disguises herself as a boy and joins her brother on the epic trip to the Wild West – the Town of Gaines.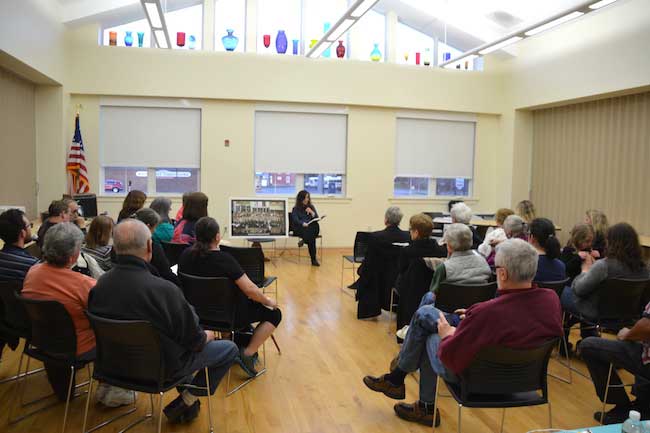 Ostrom discussed how the Genesee Valley and WNY were considered an "Eden" for many New Englanders. The pioneers travelled for weeks by wagon, through dense forests and across the powerful Genesee River, to get to Orleans County. There wasn't a map. The pioneers followed markings on trees as they made their way west.
The pioneer settlers were incredibly resourceful in taming the land, building homes and farms in the frontier. The obstacles were many – sickness, uninvited strangers, alcoholism, abuse. There typically weren't mills nearby and the pioneers often would distill their crops to make alcohol.
Thursday's event was sponsored by the Cobblestone Society and Museum, Hoag Library, the Orleans Chapter DAR, and the Orleans County Historical Association.