Author pleased with response for book on 'Mom and Pop' farms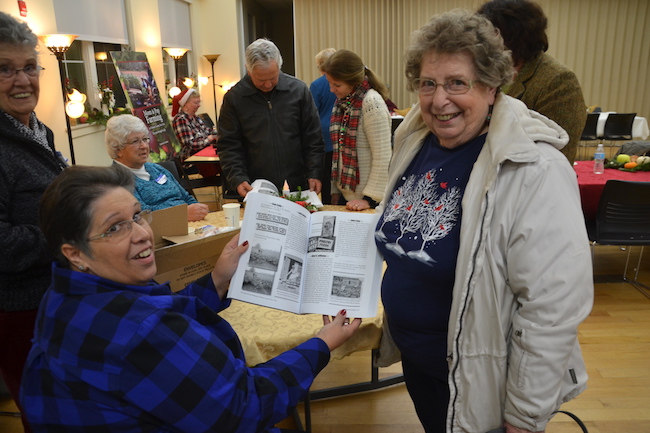 Photos by Tom Rivers
ALBION – Holly Ricci-Canham, left, holds a copy of "Mom & Pop Farming in Orleans County, New York – The past brought to life." The book is open to page 126 which includes a photo of Mercedes Bancroft of Kent.
Bancroft's daughter, Evelyn (Bancroft) Taylor, drove from Covington, Wyoming County, to get a copy of the book on Sunday.
"Mother could do it all," Taylor said.
She bought copies of the book for her seven children.
"I want them to read about what my mom did," Taylor said.
Ricci-Canham had a book-signing at Hoag Library and more than 100 people attended the event, which included pies, soup and chance for many in the farming community to catch up after not seeing each other for years.
"It's very nice that someone took the time to get it down for posterity," said Tim Kirby, an Albion farmer who attended the book-signing.
Ricci-Canham interviewed more than 150 people and included more than 400 photographs for her nearly 300-page book. She worked on the project for about two years.
Ricci-Canham, founder and president of the Orleans County Genealogical Society, signs a copy of the book on Sunday.
Canham said Sunday's reception was full of non-stop talk among many of the farm families featured in the book. She was thrilled the book brought many of the families together.
"It did my heart good," she said about seeing so many people on Sunday. "It has been very gratifying."