At 'Walk for Peace' in Medina, community leaders promise to 'become better'
School district wants to hire more African-Americans, include literary works by black authors

Photos by Tom Rivers
MEDINA – Anita Chinn, center, was among a group carrying a long "Black Lives Matter" poster down East Center Street, on a walk from Rotary Park to State Street Park.
About 100 people participated in a "Walk for Peace & Inclusion" this evening. The event was in response to the killing of George Floyd in custody of a Minneapolis police officer on May 25. Floyd was on the ground and died after being held down for nearly nine minutes while an officer had his knee on Floyd's neck.
His death has spurred nationwide protests and marches for more than two weeks and already led to legislation being passed in Albany banning chokeholds by police.
More legislation is likely on the way against police brutality and more accountability, including unsealing police officer's disciplinary records. Many legislators and activists also are calling for spending less money on law enforcement and more on community development.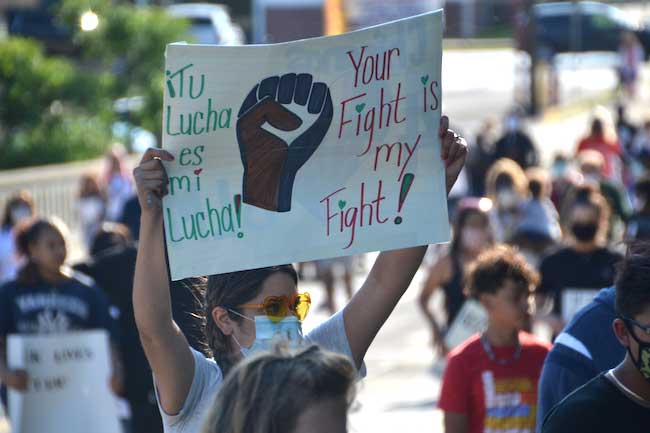 Elizabeth Novak, 26, of Albion holds up a sign that says, "Your Fight is My Fight!" Novak said she is a proud Mexican-American who supports the Black Lives Matters movement. The other side of the signs said, "Chicanos for BLM."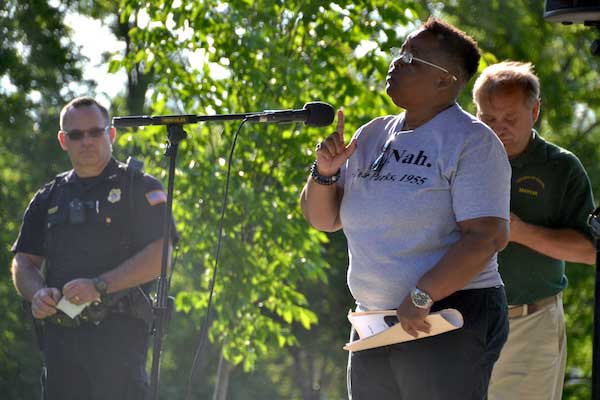 Medina native Carolyn Chinn, now of Georgia, gave the opening remarks. Medina Police Chief Chad Kenward is at left and Mayor Mike Sidari is in back.
Chinn graduated from Medina in 1973. She said her family was the first black family to move to Church Street and had their house burned down. They weren't wanted in the neighborhood. Two years ago she was back home in Medina, driving a Mercedes-Benz when she said she was pulled over by a Medina police officer for no other reason than "driving while black."
She said white people don't get pulled over for driving a nice car. White people don't have to talk to their children about how to respond when pulled over by police. "Yes sir, no sir" and keep your hands on the steering wheel at all times, Chinn said.
She said Medina should have more community policing, with officers walking the streets and getting to know residents better.
She said the death of Floyd, which was videotaped, has struck a chord with the country. Floyd cried out for his mother before  becoming unresponsive with an officer's knee on his neck.
Chinn read the names of more than a dozen other people who have been killed by police officers. She said the country is grappling with discrimination. She said hard discussions are needed.
"I am fighter, I am a survivor," she said. "We can do this together."
Mayor Sidari also addressed the group, telling them he has an open mind and open heart. He said the community needs to acknowledge "an imbalance not only today but going back to the beginning of our country."
"Let's keep this discussion moving forward," Sidari said.
The Walk for Peace was organized by Cheryl Thompson, a school district employee.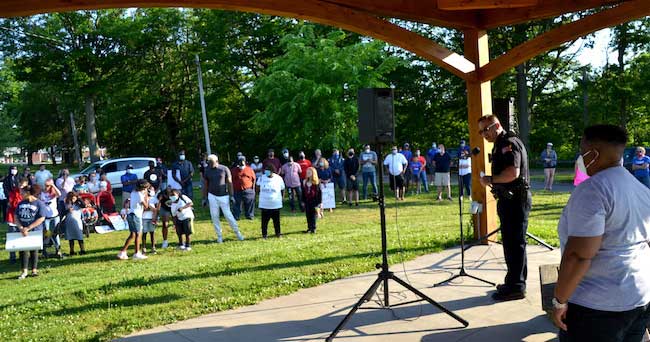 Medina Police Chief Chad Kenward, a 1992 Medina graduate, said the department strives to be responsive to the community. All officers now wear body cameras, and the department has increased its training, and will do more.
Kenward said he is "disgusted and enraged" at Floyd's death by the Minneapolis officer.
He said he wants to hear from the community "on where we need to go and how to get there."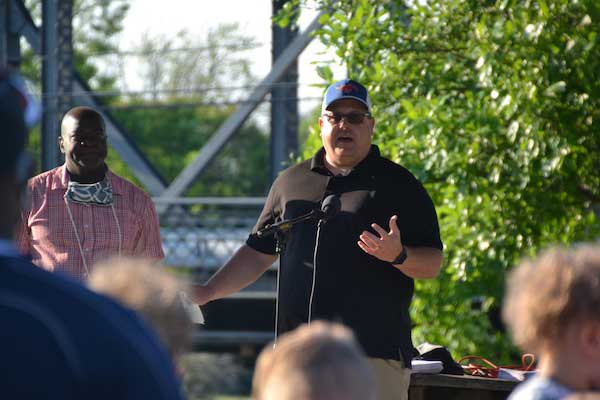 Mark Kruzynski, superintendent of Medina Central School, is joined up front by Dan Doctor, the district's director of community outreach.
Kruzynski said the district's workforce doesn't reflect the makeup of the student body, where about 10 percent of the students are black. Kruzynski said Medina would work to hire more African Americans and also would have students read books by black authors. Right now, all of the books read in the school are by white writers.
"We're going to review our hiring practices so we have a staff that is more reflective of the community," Kruzynski said. "We are going to become better, I promise."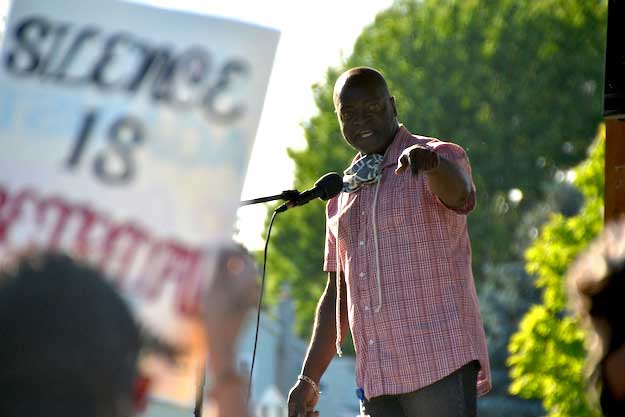 Dan Doctor, the district's director of community outreach, is shown speaking while someone holds up a sign that says, "Silence is Betrayal."
Doctor said the community needs to continue a march for justice, for better opportunities for students. The parents and guardians of students need to be more engaged in their kids' education.
Doctor said it truly takes a community to raise a child. He said the march for justice includes students who excel at school.
"Our actions speak louder than words," Doctor said. "Faith without works is dead."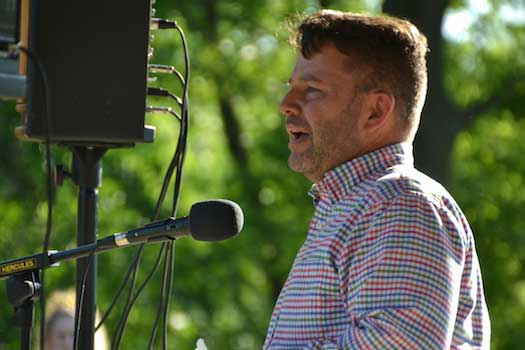 Rich Damey, pastor of Faith Bible Baptist Church, said he is sad that many Americans are marginalized right now. The death of George Floyd has galvanized the country, and highlighted the systemic injustices – "our economic and social systems are very biased."
Damey urged everyone in the crowd and community to ask themselves what they can do for black lives.
"The voice of the African-American community is being heard throughout the world like never before, in an unprecedented way," Damey said. "You have the world's ear."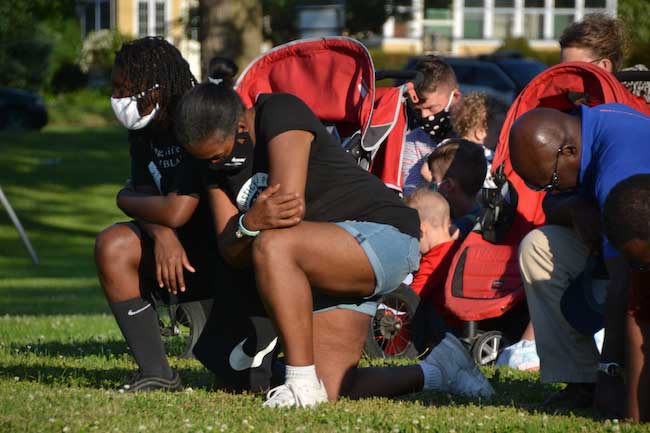 Anita Chinn and about 100 people knelt for 8 minutes and 46 seconds in memory of George Floyd. That's how long his was down on the ground with a police officer's knee on his neck.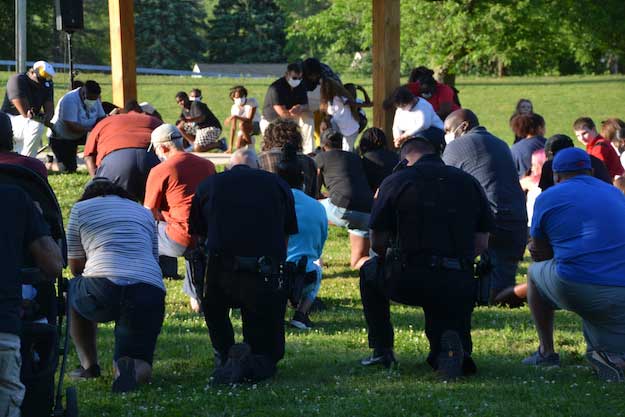 Medina Lt. Todd Draper and Police Chief Chad Kenward joined the group in taking a knee in memory of George Floyd.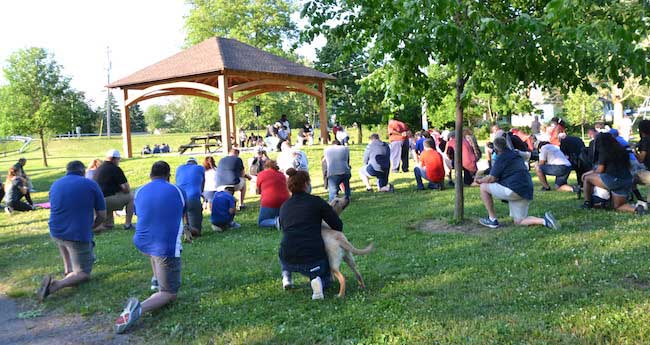 The group, which included several Medina teachers and staff members, kneels as a tribute to George Floyd.