At the annual meat auction, buyers reward 4-Hers for months of hard work
Prices topped $20K, most in years despite fewer animals
KNOWLESVILLE – The 4-H meat animal auction returned as a live event at the Orleans County 4-H Fair on Saturday. Last year's event was online when the fair was cancelled due to Covid-19 restrictions.
This year the prices were way up and topped $20,000. That was for six rabbits, two steer and five pigs. The last live auction at the fair two years ago totaled $12,950. On Saturday the total was $20,118.
There was a smaller group of animals than in recent auctions. Many 4-Hers who typically have animals in the auction didn't get started in time, working with either a steer or pig. That is a commitment for several months.
With uncertainty about this year's fair back in the winter and spring, some of the 4-Hers decided against committing to raising an animal for the auction.
Some of the 4-Hers decided late in the process to work with pigs for the fair, but those animals were only about 150 pounds, well below the minimum weight for the auction of 200 pounds.
Buyers were very generous during the auction, paying way above the market price. One of the pigs sold at $11 per pound with Panek Farms shocking the crowd paying about $3,000 for the animal and then donating it back to be auctioned off again. Several other buyers gave the animal back to be auctioned again with the second sales  going entirely to support the 4-H program.
Buyers included: (Steer) Bentley Brothers and Empire Tractor; (Pigs) Western New York Energy, Panek Farms, Genesee Feeds, Empire Tractor, Apex Clean Energy and Joe Sidonio (2); (Rabbits) Bradley Johnson, Bentley Brothers, David Piedmonte, HLW Acres (2), B & R Butchering and Bill Gerling.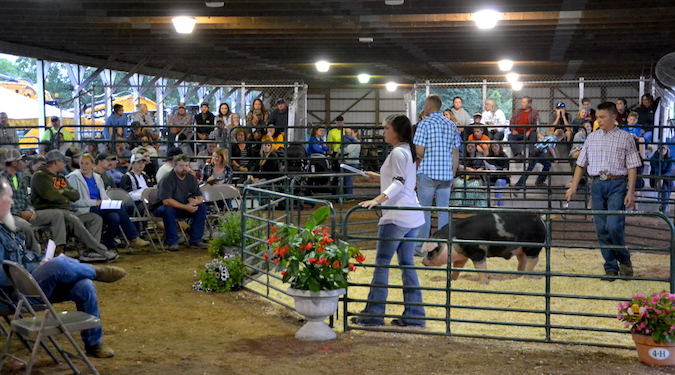 Carter Kuipers, 13, of Byron is in the showring with a pig while Liz Kron and Zack Welker scan the crowd for bids.
Joe Sidonio bought two pigs when the  animals were donated back to be resold. His purchases were about $2,000 total and that went to the 4-H program. His daughter Amelia, now 19, was in the program for about a decade.
"We're recognizing the importance of agriculture in our community," Sidonio said about the bidders. "And I think 4-H is the best program for a child. I've never seen a 4-H kid in any kind of trouble."
He said the kids that work with the animals not only need responsibility, but they learn economics, genetics and connecting with buyers.
Phil Doty of Albion is co-owner of Empire Tractor, which has five locations. He bought a pig and steer on Saturday at the Orleans County 4-H meat animal auction.
"This is my home county and I want to make sure FFA and 4-H both keep going," Doty said.
He plans to donate the meat from the two animals to his employees.
Herman Weber, owner of HLW Acres in Attica, bought two rabbits on Saturday. He said he will be buying animals raised by 4-Hers at 11 different auctions in the Western New York region.
"I want to support these kids," he said. "They are deserving.  These animals are given higher-quality feed. The kids have so much invested in them."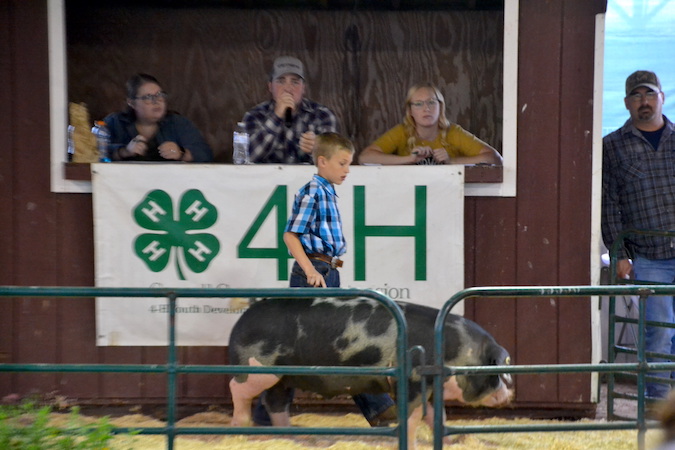 Grant Kuipers, 9, of Byron is shown with a pig that sold for about $3,000 to Panek Farms. That was one of the most shocking bids in recent memory of the auction. Ryan McLenithan of Cambridge served as auctioneer, with assistance from Janie Schutz, left, and her sister, Rylie Lear.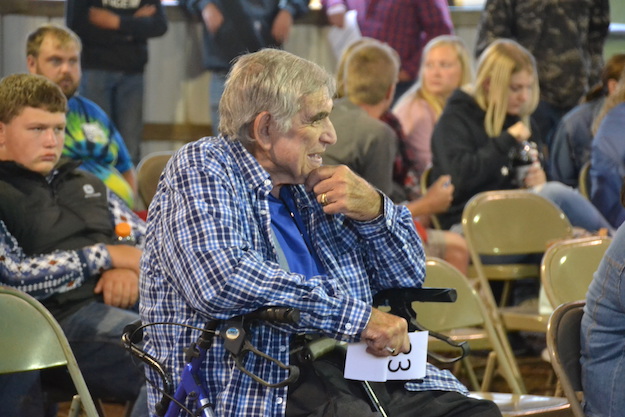 David Piedmonte of Holley has been a regular at the 4-H meat animal auctions. He bought a rabbit on Saturday. He said he wants to support 4-Hers and their months of work with the animals.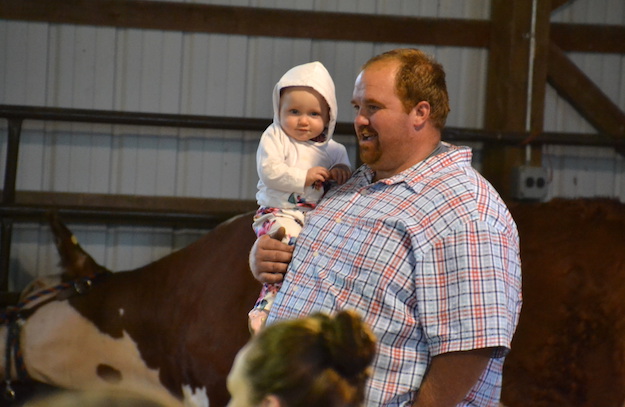 Andy Beach, holding daughter Aubrianna, bids on one of the pigs. He is co-owner of A & P Cattle. Beach usually works as one of the ringmen during the auction.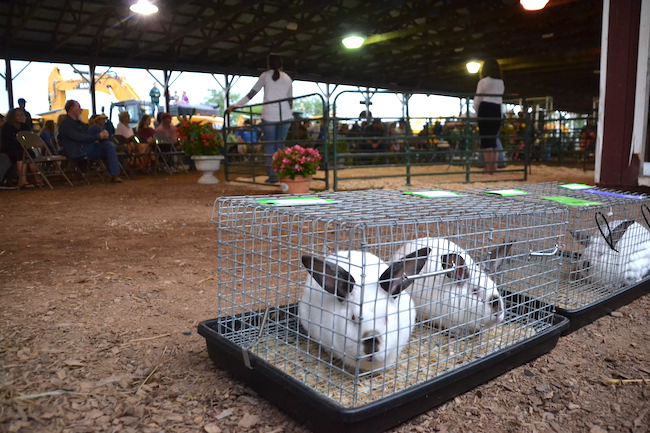 These rabbits owned by Joan Gabalski were sold at Saturday's meat animal auction at the Orleans County 4-H Fair.