At Ghost Walk, Cobblestone Museum highlights life locally in 1862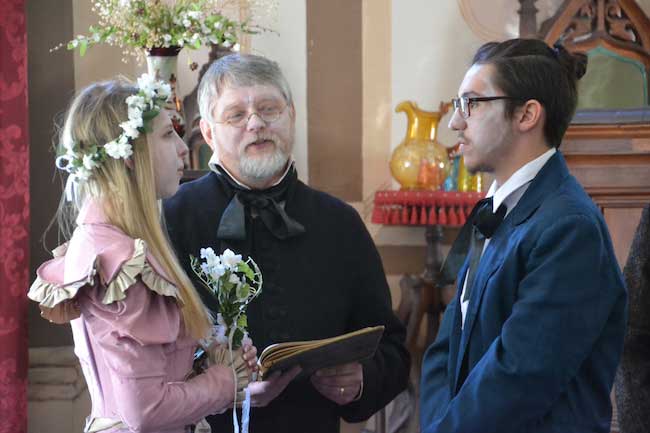 Photos by Tom Rivers
GAINES – The Ghost Walk at the Cobblestone Museum last Saturday included a double wedding. Josilynn Russo, left, of Pavilion portrayed one of the brides. She married a character played by Spencer Lombard, an Albion High School senior. Martin Hillman served as the minister.
The museum had a team of 75 volunteers for the Ghost Walk, which focused on life in the Fairhaven hamlet in 1862. (Fairhaven was the name for the hamlet before it was changed to Childs.)
The two men who were married were about to set off and fight for the Union in the Civil War.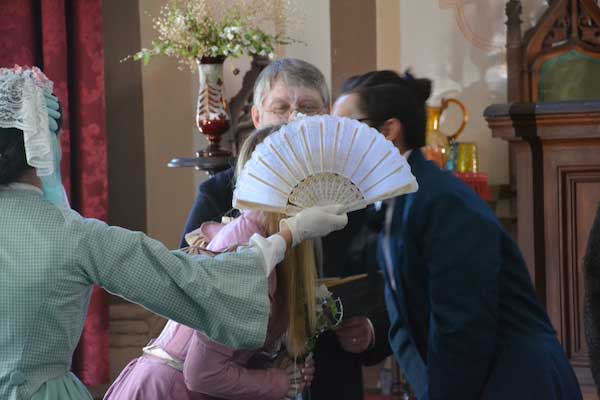 The newlyweds share a playful moment near the end of the ceremony.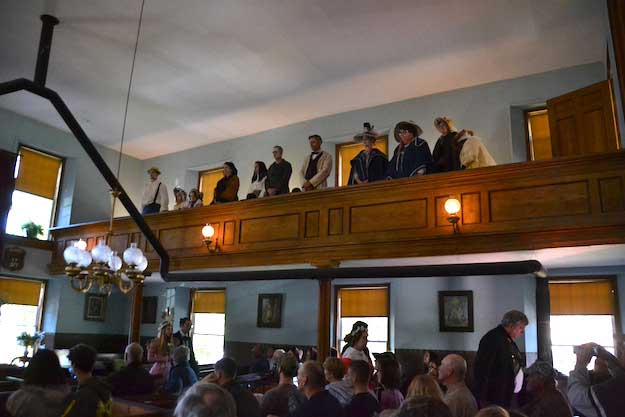 The couples head out of a full sanctuary at the Cobblestone Universalist Church. About 125 people attended the Ghost Walk. The other couple was portrayed by Robin Lewis and Bradley Jordan.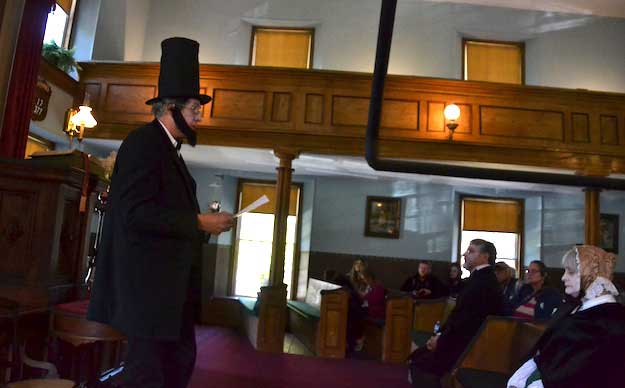 Marty Taber portrays Abraham Lincoln during the event. Taber helped write the script for the event. He is shown giving the response to an editorial written by prominent abolitionist Horace Greeley. Gerard Morrisey portrayed Greeley, who owned the Ward House next to the Cobblestone Church.
Greeley penned "The Prayer of Twenty Millions," in which he scolded Lincoln for the way he was conducting the War Between the States.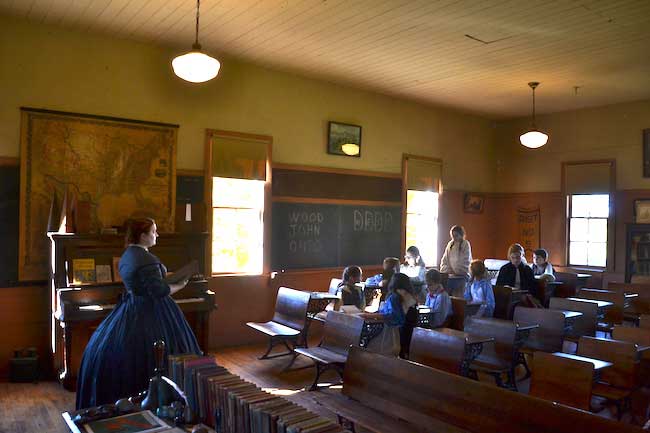 Rachel Lockhart of Rochester portrayed a teacher in the Cobblestone School.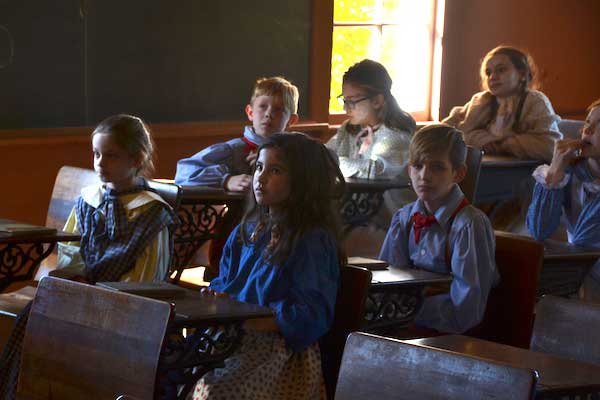 Gabby Davila of Brockport, front right, is one of the school children. The one-room schoolhouse opened in 1849 and served the Gaines community until it was closed in 1952. It remains largely preserved from the way it was when it was last open.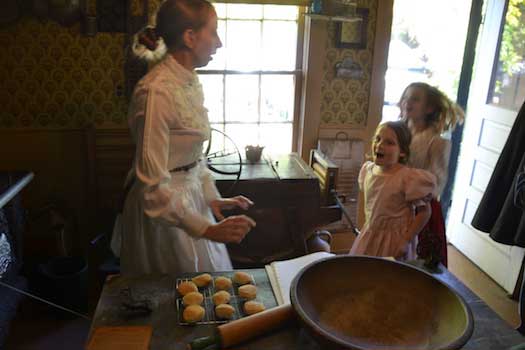 Melissa Nowicki of Hilton portrays Jenny Ward who is baking in the kitchen of the Ward House for the wedding. She is joined by sisters, Aubrey and Sylvia Bruning.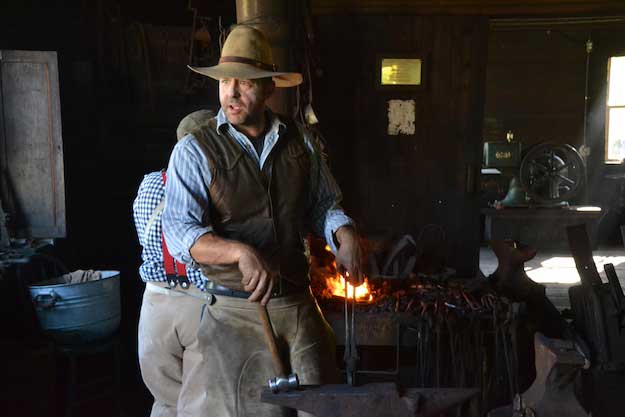 Jeff Casillo portrays the blacksmith, Joseph Vagg. Judy Larkin of Ridgeway also worked in the blacksmith shop during the Ghost Walk.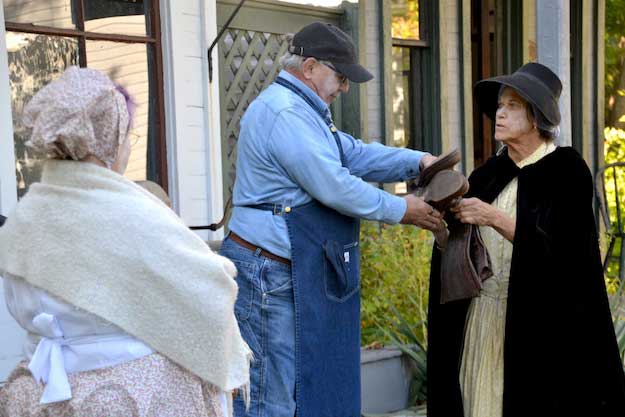 Erica Wanecski hands off a pair of boots to a cobbler portrayed by Fred Freeman. Kim Remley, left, also was a character in the Ghost Walk.­­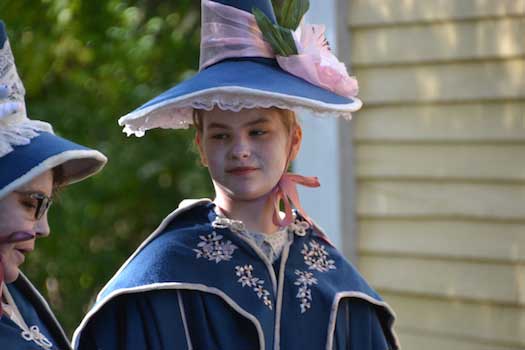 Natalie Bertsch of Albion is one of the townspeople.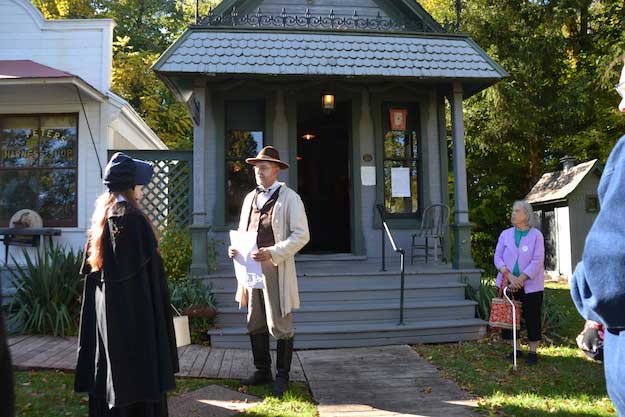 Doug Mergler, a retired Albion teacher, portrayed the printer at Hill's Print Shop.