At 9/11 observance, a call for unified country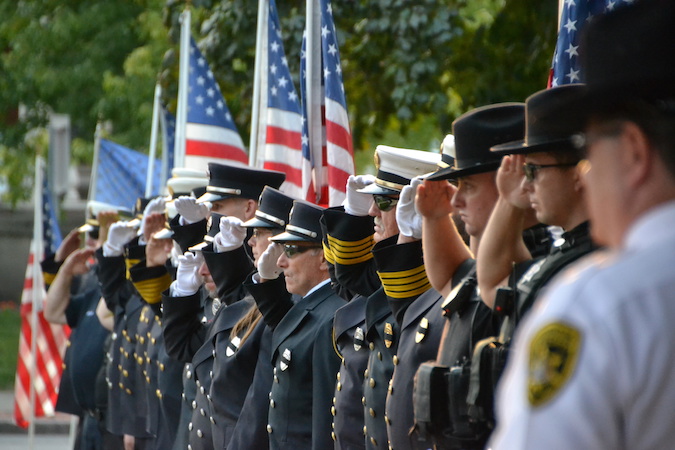 Photos by Tom Rivers
ALBION – About 50 firefighters and law enforcement officers in Orleans County salute while Taps was played on Saturday evening during a 20th anniversary observance of the Sept. 11 terrorist attacks.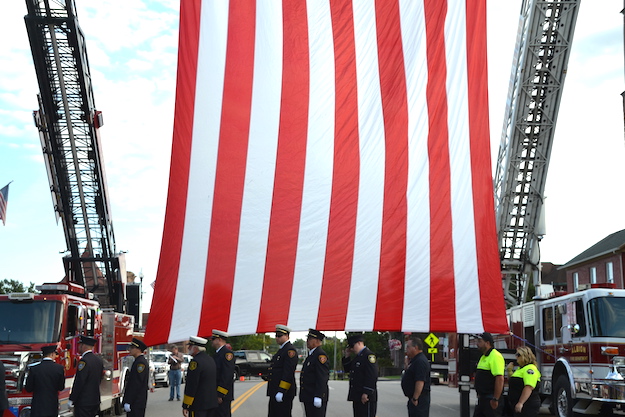 Local firefighters get lined up on Main Street near a giant American flag that was held high from the ladder trucks of the Albion Fire Department and the Murray Joint Fire District (Holley Fire Department).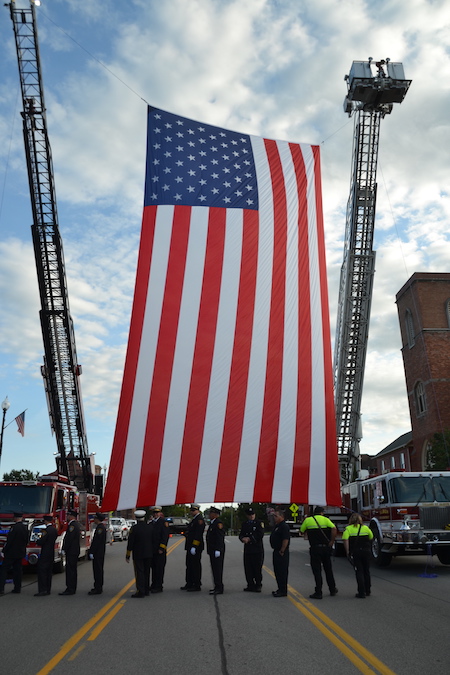 Two local fire departments have displayed the large flag for the Sept. 11 memorial service for many years. The section of the street is blocked off from State and Park streets.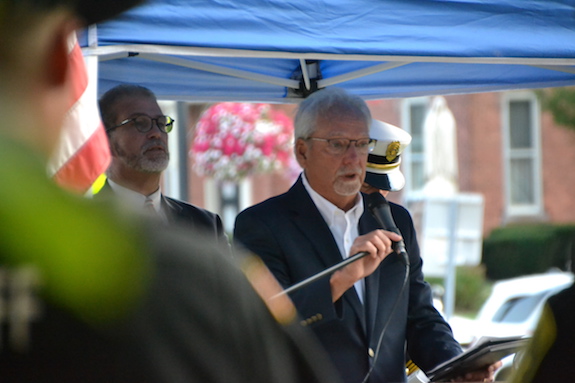 Alec Sherman led a crowd of abut 200 people in singing "America the Beautiful" at the Courthouse Square near the Sept. 11 memorial.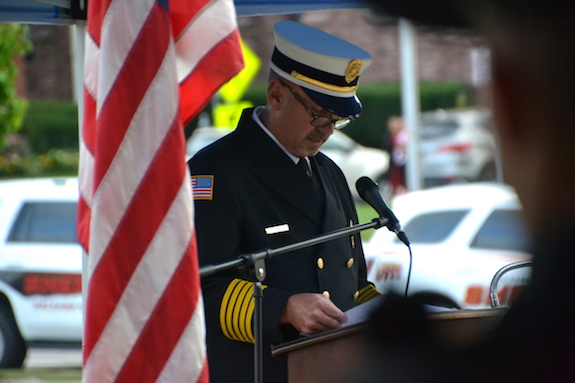 Dale Banker., the county's emergency management director, shared a timeline from the day. On Sept. 11, 2001, at 8:46 a.m., the North Tower was struck in New York City. At 9:03, a plane hit the South Tower. At 9:37, the Pentagon was struck. At 9:59 p.m., the South Tower fell. At 10:07 a.m., Flight 93 crashed in rural Shanksville, Pa. At 10:28 a.m., the North Tower collapsed.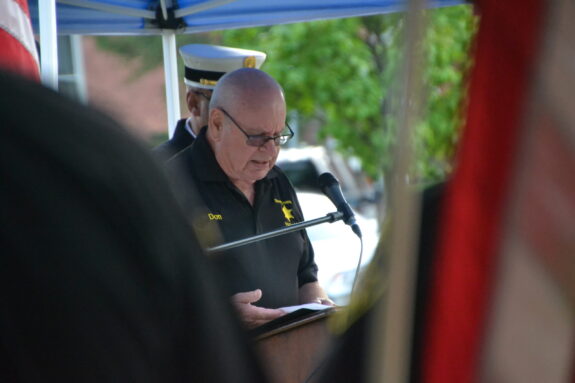 Don Snyder, a chaplain with the Orleans County Sheriff's Office, gave the opening and closing prayer. He thanked God for first responders who put their own lives in peril to help others. He urged community members to consider volunteering with their fire departments.
Orleans County Sheriff Chris Bourke greeted many of the firefighters, law enforcement officers and community members at the service.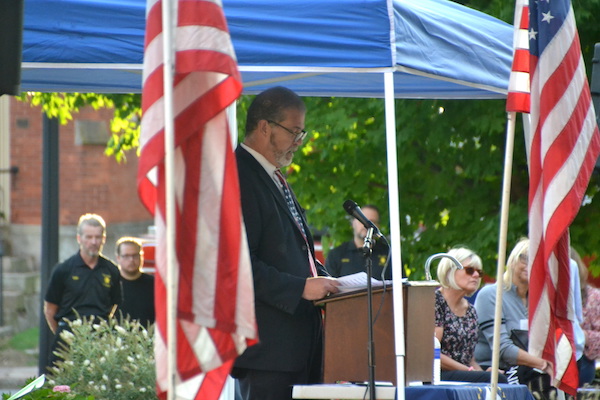 Scott Schmidt served as keynote speaker for the event, as he has for many of the Sept. 11 observances. Schmidt spent three weeks with a federal team – U.S. Disaster Mortuary Operational Response Team – and assisted in collecting and identifying remains, and interviewing family members searching for loved ones. He left for New York City on Sept. 11, 2001. He was there for 20 days, including a week at Ground Zero.
Schmidt said the country and local community united after the terrorist attacks and that same feeling and commitment is needed today. After the Sept. 11 attacks, there were services of prayer and candlelight vigils, and American flags were displayed in pride, Schmidt said.
"Our unity is a kinship of grief, and a steadfast resolve to prevail against our enemies," he said. "And this unity against terror is now extending across the world. America is a nation full of good fortune, with so much to be grateful for. But we are not spared from suffering. In every generation, the world has produced enemies of human freedom. They have attacked America, because we are freedom's home and defender. And the commitment of our fathers is now the calling of our time. On this National Day of prayer and Remembrance, we ask almighty God to watch over our nation, and grant us patience and resolve in all that is to come."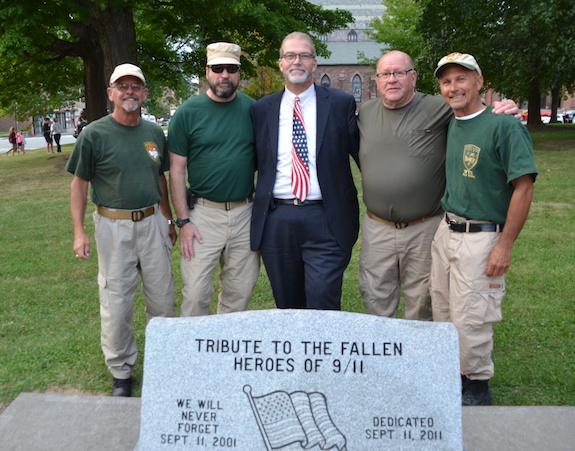 Schmidt is shown with other DMORT members who have responded to mass casualty incidents. They include from left Art Lucas of Akron, Robert Zerby of Rochester, Schmidt, Vincent Iocovozzi from near Utica, and David Brugno of North Chili.
Schmidt said the local community is fortunate to have many selfless firefighters, paramedics, law enforcement officers and others who give in service to others.
"Never take for granted the men and women before you…that if there is a grass fire, an MVA or a structure fire … that they'll be in route," Schmidt said. "Never take for granted the men and women before you … assuming that if you have chest pains, have suffered a broken bone, or are in respiratory distress … that they will respond with urgency to assist you in your distress.  Never take for granted the men and women before … that if someone broke into your house, or if you've been assaulted, or if someone is threatening your life … that they will respond, risking their safety to guarantee yours.  And never take for granted the men and women before you, ones who have died, and those in uniform around the world … who put their lives on the line to maintain the freedom of each and every American and for this great land."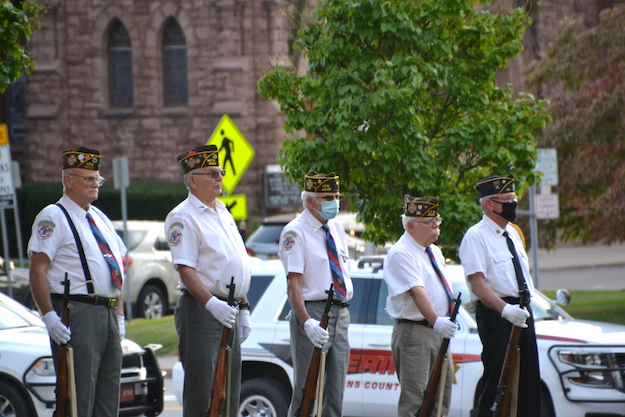 Local veterans provided an the honor guard during Saturday's memorial service.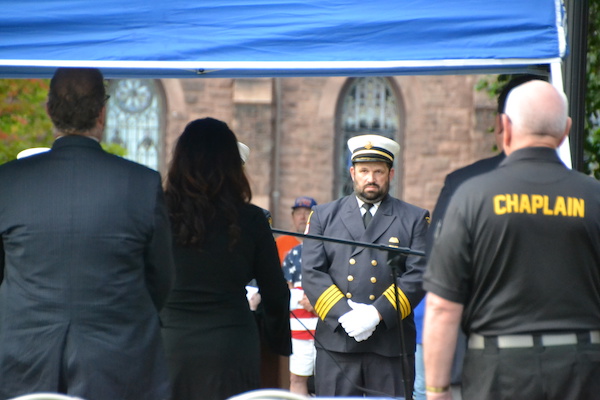 Rob Connor, Albion fire chief, listens to Lynne Johnson, Orleans County Legislature chairwoman, give her remarks during the service.
"My message to you as we leave here today is to be ever mindful of the realities that surround us," Johnson said. "Pearl Harbor was a wake-up call 80 years ago. Sixty years later it was here on our mainland, only 20 years ago. We must be vigilant and maintain our resolve no matter how distant a threat might appear, and ask God to bless and protect our great nation from the forces of evil which surround us."