Assemblyman Norris joins students in Read Across America movement
Press Release and photo from State Assemblyman Mike Norris's Office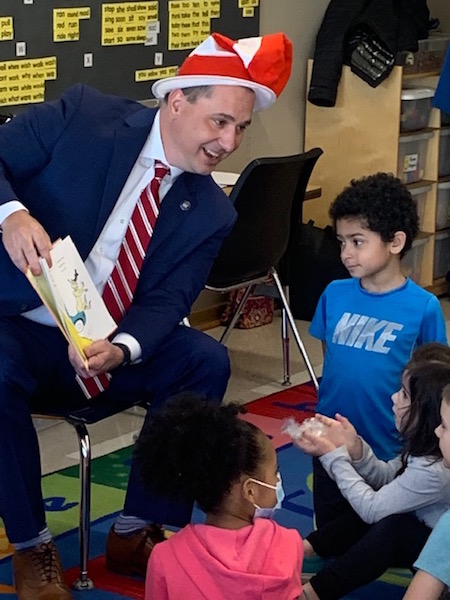 LOCKPORT – Assemblyman Mike Norris (R,C-Lockport) joined the national Read Across America movement today by reading Dr. Seuss' Green Eggs and Ham to Mrs. Dockery's 1st grade class at the Roy B. Kelly Elementary School in Lockport.
This week also commemorates the 118th birthday of Dr. Seuss, who helped inspire the weeklong Read Across America movement encouraging young people to develop a passion for reading.
"Reading remains one of my favorite hobbies, largely because of the inspiration it provided me as a young child," Norris said. "Because of books I have been able to travel to faraway places, imagine things never before seen and experience the world in ways that changed my perspective and helped make me the person I am today. Not only does reading help further our education, but it also cultivates our passion for life. It's such a pleasure for me to get to share that joy with students at events like this and through my annual Summer Reading Program."
In addition to participating in annual Read Across America programs, Norris also encourages children's reading development by providing families with encouragement and resources over the summer through his annual Summer Reading Program. The program is available both digitally and in hard copy and can be found on his Assembly Website and on social media toward the end of the school year.