Assemblyman from Bronx tours Orleans

Hawley invites colleague from Albany to see local agriculture, downtown business district
Photos by Tom Rivers
MEDINA – Mayor Mike Sidari of Medina, right, gives Assemblyman Michael Benedetto (left), a Democrat from the Bronx, a tour of Main Street in Medina this afternoon along with Assemblyman Steve Hawley, a Republican from Batavia.
Hawley invited Benedetto to see some of the 139th Assembly District, which includes most of Orleans, all of Genesee and a portion of western Monroe.
Hawley and Benedetto say they are good friends who got to know each other on the Veterans' Committee in the Assembly. Benedetto was the committee chairman with Hawley the ranking member.
"This brings about a more upstate-downstate respect for each other," Hawley said about welcoming a downstate Democrat to the local community for a tour. "We treat each other with respect whether we agree or disagree."
Today was the first time Benedetto has been in Orleans County. He has been to Western New York before, visiting Niagara Falls and Buffalo. Before seeing downtown Medina, Hawley showed him the Green Harbor Campgrounds & Marina in Lyndonville, LynOaken Farms in Lyndonville, and Torrey Farms in Yates. They had lunch at Avanti's in Medina.
Hawley will go to the Bronx to see Benedetto's district. This is the fourth Assembly member Hawley has hosted from the other side of the state.
Benedetto said he was grateful for the chance to meet some of the local farmers and business owners.
"You find out we're all people and we're more alike than different," he said.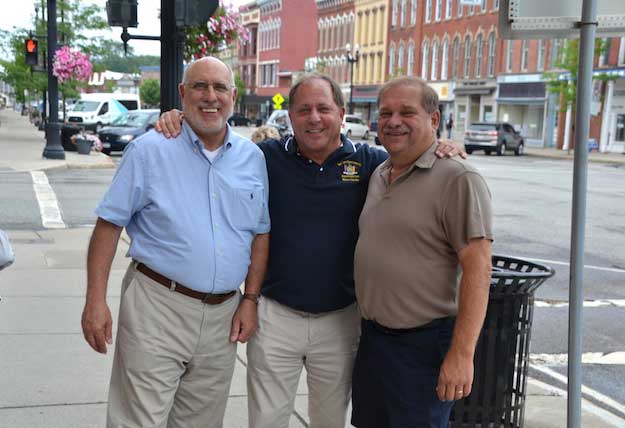 Assemblyman Michael Benedetto, Assemblyman Steve Hawley, and Medina Mayor Mike Sidari are pictured in downtown Medina. Sidari told the two Assembly members there are 95 businesses in the downtown business district with near full occupancy in the downtown.
"This is America," Hawley said in showing Benedetto around Medina. "This is an American Main Street. It's gorgeous."
During the tour of Green Harbor Campgrounds & Harbor, Hawley highlighted the impact from last year's flooding on Lake Ontario and the difficulty some business owners are having in accessing state funding that was intended to help homeowners and businesses recover from the damage.
At LynOaken and Torrey Farms, Benedetto was shown some of the latest trends and investments in agriculture, including a rotary milking parlor at Torrey's dairy farm on Route 18 in Yates.
After lunch at Avanti's, Benedetto and Hawley were scheduled to go to Genesee County to see Z&M (Landpro Equipment) in Oakfield, Genesee Community College in Batavia, Chapin Manufacturing in Batavia, Batavia Downs and then have dinner at Fortunes restaurant at the Downs.