Artist returns to create new mural in children's section of Lee-Whedon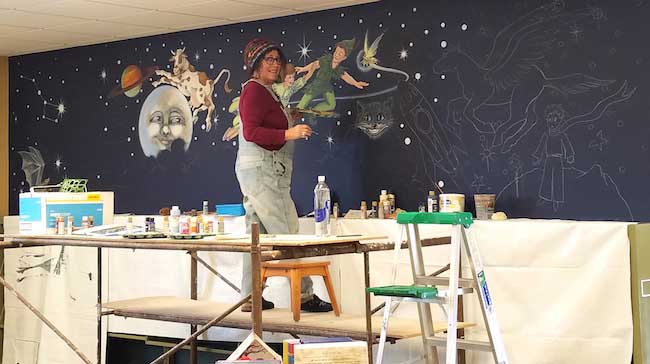 Provided photos
MEDINA – Judith Villavisanis, a former Albion resident who now lives in Florida, is back locally to work on a new mural in the children's section of Lee-Whedon Memorial Library.
Villavisanis in 2014 created a new entrance leading to the children's section. That entrance resembles a giant book and features many characters from children's books, such as Wilbur, the pig from Charlotte's Web.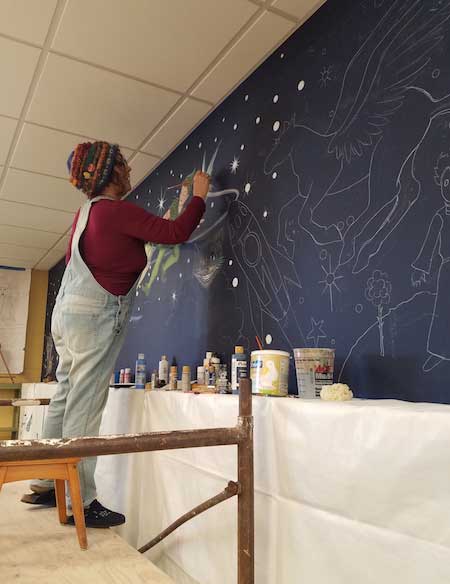 Villavisanis is painting more characters from popular children's books with the new mural, which is on the south wall of the library.
"When I finished with the book three years ago, I mentioned that the expanse on the south wall was crying out for a visual component," she said. "But, I never thought I would be back to work on it. Being able to continue my vision in this way is very special to me."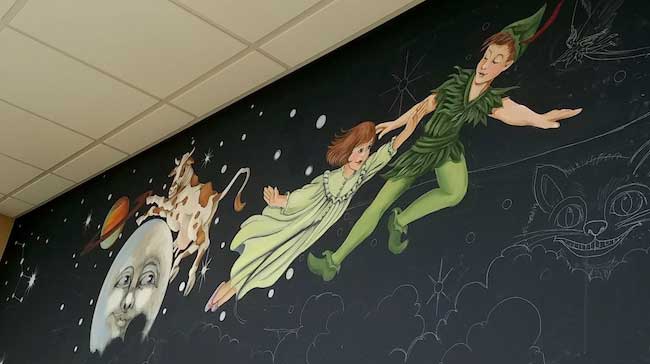 The current project is a tribute to two people who each served the library for over 20 years: Maryellen Dale as President of the Board of Trustees and Elaine Jamele as Children's Librarian.
"They both delighted in introducing children to the joys of reading and the wonder of books," said Catherine Cooper, the library director. "They each derived a particular joy from children's literature and from the imaginatively iconic, whimsical characters that are now featured on the wall."
Judith Villavisanis is shown in December 2014, taking a break to pose with a new entrance leading to the children's section. The entrance resembles a giant book.The portals in the book cover are spots for people to place books. The pig is Wilbur from Charlotte's Web. She also painted Winnie the Pooh, fairies, elves and other characters.