Artist begins work on bronze statue of soldier to go by Medina Armory
The statue of a soldier that will go by the former Medina Armory is taking shape.
Brian Porter, a sculptor who works as an assistant professor for Erie Community College, is working on the statue that will resemble a young soldier, someone who looks between 18 and 21.
That was typical soldier of Company F, which trained out of the Armory in Medina. The Company F Memorial Committee wants the statue to look like a typical soldier from the site when they left the community in October 1940 during World War II.
The 7-foot-high bronze statue will be erected outside the Armory, which was used for about 75 years to train soldiers for battle. The statue will honor those soldiers and help people appreciate the building's past in training soldiers to defend the country
Porter created the statue for the Seabees Memorial in North Tonawanda.
Porter is trying a new process using 3D technology. He scans in the image of the miniature clay model, and data sent to a CNC machine is used to cut out thin plywood slices that are then glued together. The wood structure is a subframe for the clay to be shaped upon.
"It was a really interesting process to get to this point and many people that viewed it on campus were excited about the look of this stage of the structure," Porter said.
The next step will be to begin carving and prepping the surface for clay modelling.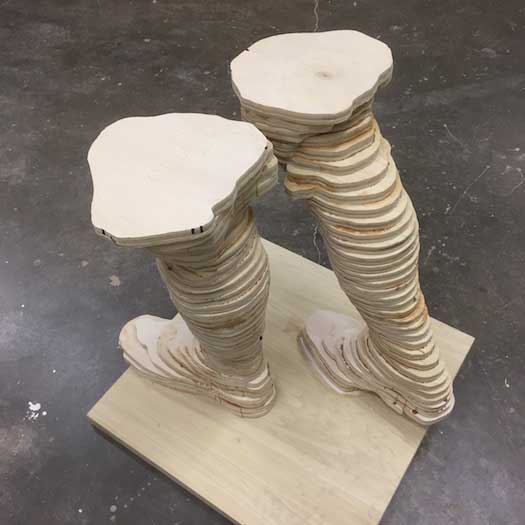 The plywood slices have been glued together in sections of about 10 pieces each. Porter anticipates that they will be easier to model and mold in this way.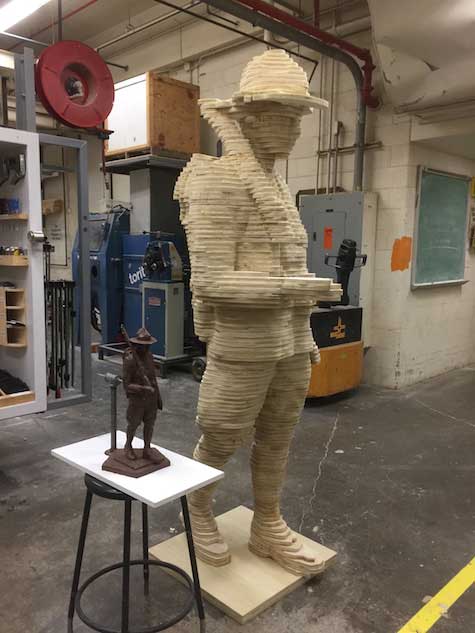 The miniature clay model, about 20 inches high, is next to the wood structure which will be covered in clay in the next step in the process.