Art show features work of scenes in England, and watercolors while undergoing chemo
Arthur Barnes and Suzanne Wells are showcased at Marti's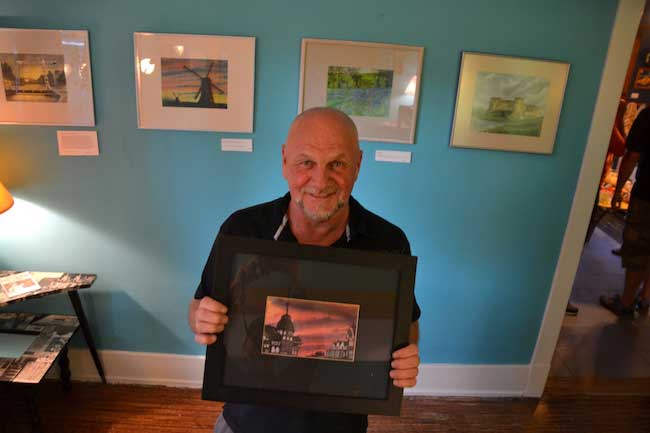 Photos by Tom Rivers
ALBION – Arthur Barnes holds a painting – "Chester Sunset" – he did of Chester, a walled city in Cheshire England, very close to Wales.
Barnes, a resident of Shelby, was in Wales while visiting his cousin. He sat on bench and did this sketch in an hour while a young man played the violin nearby, playing "To Dream the Impossible Dream."
Barnes has been to England several times the past decade and many of his ink drawings and watercolors are on display this month at Marti's on Main, an art gallery at 229 North Main St.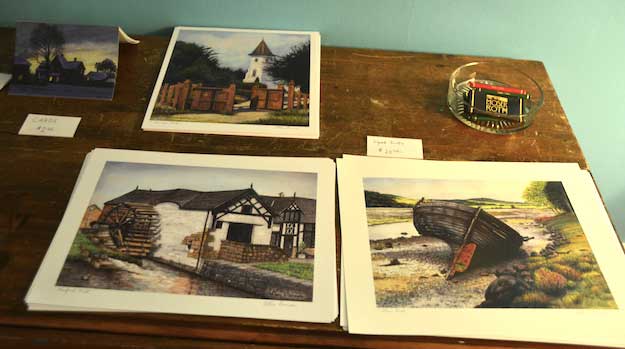 Barnes has paintings and drawings of country landscapes, churches, windmills, castles and a 1,000-year-old mill.
"When I go there I feel so at peace," Barnes said about his trips to England, Wales and Holland. "There are open trails for miles and miles. There's so much to see and I can't wait to see what's around the corner or over the hill."
There was an opening reception on Friday for the new show. This was the first show featuring Barnes' work in a few years.
The show also included Suzanne Wells, a returned Albion art teacher.
The gallery is run by Kim Martilotta Muscarella. She will feature different artists each month through November. There is a "First Friday" opening each month from 6 to 9 p.m. Muscarella said people are welcome to stop by at other times when she is home.
Suzanne Wells painted many of her watercolors while undergoing chemotherapy. She has been fighting cancer for about three years. Wells brings watercolor pencils and paper to her chemotherapy appointments. Rather than watch TV for two hours while hooked up to an IV, she does artwork.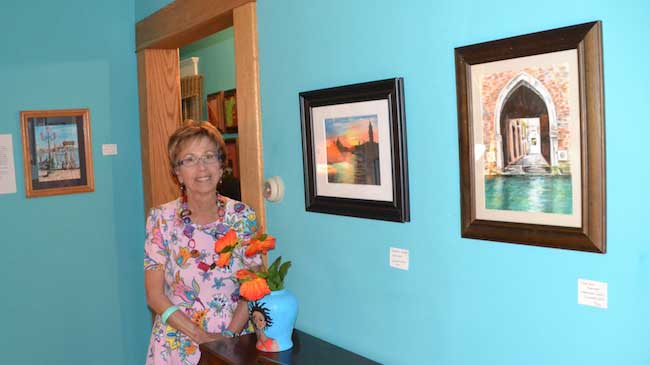 Wells travelled to Italy in 2014. She made these paintings of places she visited in Italy when she returned home, using her cell phone photos as a reference.