Apple harvest is underway, with nice crop expected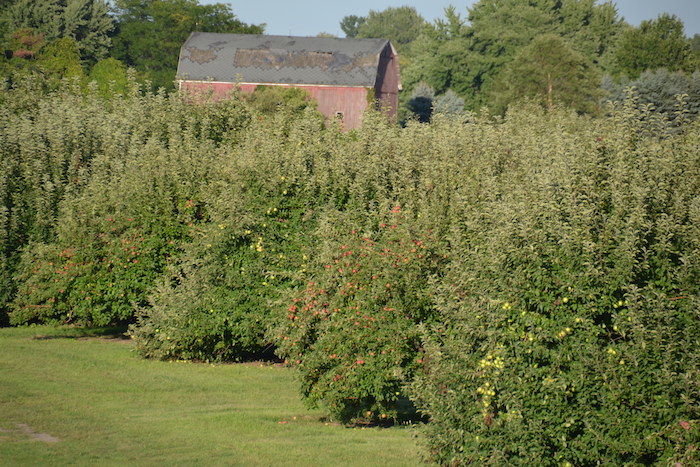 Photos by Tom Rivers: An orchard is pictured on Presbyterian Road in Albion, near the Erie Canal.
Apple growers in Orleans County and New York State are in harvest-mode, and they expect a nice crop despite drought conditions.
New York is the country's second-leading apple producer with an average harvest of 28.6 million cartons annually the last five years. (Orleans County is the second leading apple county in the state, behind only Wayne County.) This year's crop is expected at 30 million cartons, which would top the annual average, according to the New York Apple Association.
"By the time this crop gets off the trees and to market, all New York state apple fans are going to see is 'great' – great variety, great quality and great flavor," said New York Association President Jim Allen.
Besides the drought, some apple growers battled a frost during the spring bloom and hail in some parts of the state.
The apples will be a little smaller this year because of the drought, Allen said.
"There are plenty of fruits on the trees this year, they're just smaller in size than usual," he said.
The drought has apples crunchier and sweeter. With less water content, the concentration of sugars in each apple is higher.
"Even downsides can have upsides in this industry," Allen said.
Growers have been switching some of their acreage to high-density plantings of popular varieties, such as Honeycrisp, and new varieties – Zestar, SnapDragon and RubyFrost.
"Our growers produce more apples now on fewer acres because of technology – smaller trees that produce more fruit, computer-aided packing and sorting, and high-tech cold storage that puts apples to sleep until they are ready to ship to stores," Allen said.
The New York Apple Association also is touting apples as healthy snacks. The association has launched the Big Apple Salad Challenge this fall, encouraging people to eat one salad a day with an apple included.
Fans who take the Big Apple Salad Challenge are invited to try NYAA's salad recipes, and to send pictures of their own apple salads to NYAA – the association will share fan photos on its website and Facebook page. (Click here to see the NYAA website.)
"Whatever your health goal – eating cleaner, feeling better, losing weight – salads are a deliciously easy way to eat better without sacrificing flavor or satisfaction," says NYAA Registered Dietitian Linda Quinn. "Apples add crunch, texture and flavor – as well as nutrients and fiber-related fullness – to any salad. Plus, apple cider and cider vinegar make great salad dressings!"
Quinn has developed a number of apple salad recipes to help apple fans get started on the Big Apple Salad Challenge, including: New York Apple Slaw with Sweet and Sour Cider Dressing; New York Apple-cado Salad (a fruity, crunchy twist on traditional guacamole), New York Apple Seasonal Salad with kale, quinoa and dried cranberries in a cider vinaigrette dressing.
There is also New York Grilled Apple Salad with a tangy cider mustard vinaigrette dressing, and New York Apple BYO Salad with Apple Cider Drizzle – build your own salad with what's in your fridge.
Send NYAA a favorite salad recipe or salad photo by Oct. 31, and you will be entered in the Big Apple Salad Sweepstakes. NYAA will share sweepstakes winners' photos after the sweepstakes has concluded. (You can also simply fill out and submit the sweepstakes entry form – no purchase, photo or recipe is necessary.)
---