Another death reported at Orchard Rehab and Nursing, bringing county's total to 49 from Covid-19

There has been another death at the Orchard Rehabilitation and Nursing Center in Medina, bringing the total deaths at the nursing home in Medina to 18.
Orleans County has now had 49 residents die from Covid-19, with 30 at The Villages of Orleans Health & Rehabilitation Center in Albion, and one death of a community member outside a nursing home.
The Genesee and Orleans County Health Departments today is reporting one new confirmed case of Covid-19, a Carlton resident who is in the 60s. This person was not on mandatory quarantine prior to testing positive.
The county has now had 247 people test positive for Covid-19. The Health Departments is reporting today that two more community members have recovered after getting Covid-19, bringing the total recoveries outside facilities to 97.
There are currently 14 residents hospitalized with Covid-19.

In Genesee County, there are no new cases today.
There also is one more recovery, bringing that total to 141 in Genesee.
Click here to see an online map of cases in Genesee, Orleans and Wyoming counties.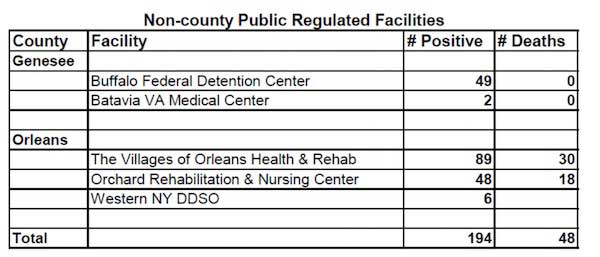 The facility breakdown is only showing the total positive cases from those facilities with confirmed cases of Covid-19.
More information from the Genesee and Orleans County Health Departments:
• Phase 3 is open today. With that in mind, everyone in Phase 3 should have developed and implemented their Business Safety Plan and in place prior to opening whether it be a business, house of worship, non-for-profit organization, etc.
You are responsible to have your plan and all necessary supplies in place prior to opening. You will not be submitting your plan. However it must be on the premises in the event of a state, local or safety inspection. Keep checking the New York Forward website for your industry/organization summary guidelines.
If you have questions regarding your business operations, please contact the Finger Lakes Regional Control Room: flnyf@esd.ny.gov.
• Guidance for indoor seating at restaurants and food services establishments and for personal care services for tattoo, piercing facilities, appearance enhancement practitioners, massage therapy, spas, cosmetology, nail specialty, UV and non-UV tanning, or waxing are now posted on the NY Forward website under Phase Three Industries.
Remember plans (including that the affirmation guidance has been read) and supplies have to be in place before opening.
• Garage/Yard sales are now able to be open following masking, social distancing, sanitizing and limiting to 10 or under. Garage and yard sales – as informal events for the sale of used goods by private individuals in residential settings – are permitted to operate so long as sellers ensure that (1) people can be safely and appropriately spaced such that each person is at least six feet away from others and, in no case, should the space be occupied by more than 10 people at any given time; (2) appropriate face coverings must be used by people in areas or situations where they are likely to come within six feet of another individual; and (3) adequate hand hygiene supplies (e.g. hand sanitizer) and regular cleaning/disinfection protocols are in place. Sellers may consult the New York Forward safety plan template for additional precautions that they should consider implementing during such sales.
• Social gatherings still 10 people or less: Per Governor Cuomo gatherings (groups, assembly, meeting, etc.) of 10 or less are permitted with social distancing and sanitization protocols in place. The executive order is through June 21st or unless it is extended.
The Health Departments do not authorize or allow exemptions from the Governor's orders. If you have questions about the orders you can go to forward.ny.gov.
• Protestors urged to get tested for Covid-19. Governor Cuomo is urging all protesters to get a Covid-19 test. Find a test site near you.
• Orleans waiting direction on state on when DMV can reopen: Jack Welch, CAO of Orleans County, said the county is awaiting a Governor's executive order to allow us to open the DMV by appointment. We look forward to the day we may announce our ability to greet the public by appointment at DMV.
• Mental Wellness: Six New Yorkers. Six weeks. Coping together. New Yorkers are coping with a lot. Coping Circles are free six-week support and resilience groups, held by video or phone, facilitated by licensed mental health professionals. Learn more and sign up at ny.gov/copingcircles for a Coping Circle, including specialized Circles for Healthcare Workers and First Responders, Survivors of COVID-19 Infection, Job Loss due to COVID-19, or Loss of a Loved One to COVID-19.