Another big response for produce boxes at fairgrounds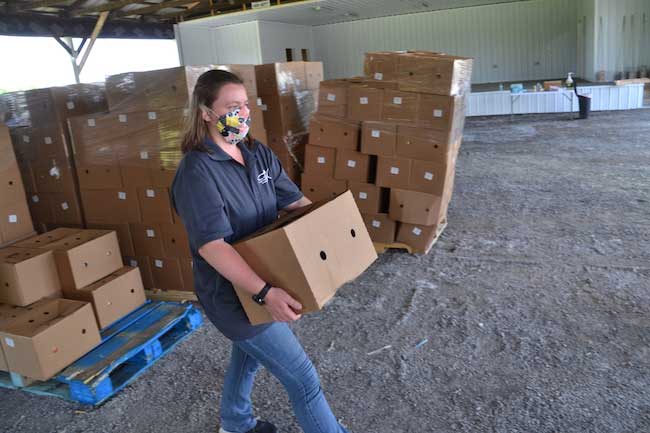 Photos by Tom Rivers
KNOWLESVILLE – Natalie Mrzywka, a 4-H administrative assistant at the Cornell Cooperative Extension in Orleans County, carries a 20-pound box of produce to a vehicle this afternoon at the 4-H Fairgrounds.
Extension staff and volunteers were at the site early this morning for the delivery of 1,200 boxes. Cars started to line up by 8:30 for a distribution that was scheduled to start at 10.
By 1 o'clock, about 750 boxes had been given away for free to local residents. Extension staff expect there will be boxes later this afternoon until about 6 p.m.
The Extension is hosting the distribution of USDA farmers-to-families produce boxes that include potatoes (1-5 pounds), oranges (1-4 pounds), apples (1-3 pounds), onions (1-3 pounds), green vegetables (1-3 pounds of broccoli, cabbage, green pepper, etc.), and carrots (1-2 pounds). Some of the produce items come from Orleans County farms.
The Extension hosted the first distribution on May 29 and will have another one in two weeks on June 24, beginning at 10 a.m.
James Desiderio Inc. of Buffalo is the distributor of the produce.