Another big crowd enjoys wine-tasting event at Medina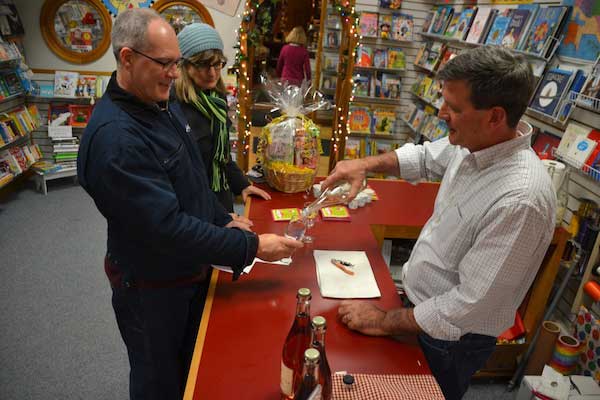 Photos by Tom Rivers
MEDINA – Roland Phillips of the Book Shoppe in Medina pours a glass Rosé Hard Cider for Roger and Annette Allis of Medina. The Book Shoppe was one of 28 stops during the 10th annual Wine About Winter in Medina.
There were 854 tickets sold for the event, which includes wine-tastings.
The Rosé Hard Cider served by Phillips was produced as a collaboration by Leonard Oakes Estates Winery in Medina and Rootstocks Ciderworks in Williamson.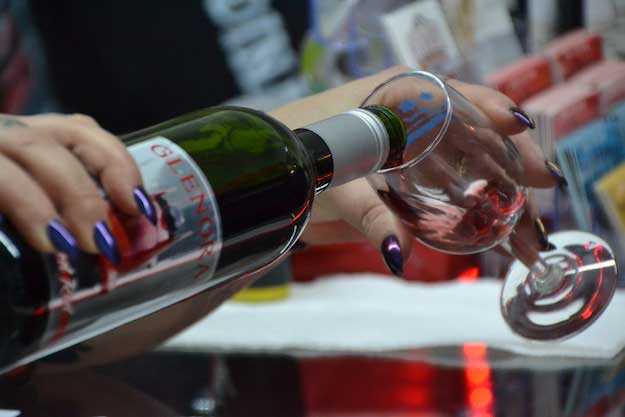 Canalside Tattoo was one of the stops on Wine About Winter, which is organized by the Medina Business Association.
Cindy Robinson and Kathy Blackburn are long-time leaders of the MBA. They said the downtown business district is ideal for the event because there are so many shops and businesses that are one-day hosts for the wine-tastings.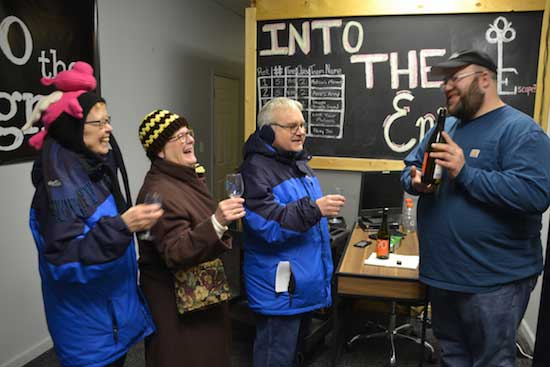 Joe Gould of Into The Enigma pours Sauvignon Blanc from 90 + Cellars in Brighton, Mass. He is serving Tony Hipes, Molly Butler, second from left, and Judy Hipes, left. Most of the wines are from the Niagara Wine Trail and Finger Lakes wineries.
Regular tickets for the event are $15. The Medina Business Association pays the wineries a wholesale rate for the wine, rather than asking them to share samples for free. Blackburn of the MBA said the wineries are small businesses and the MBA wants to support them, too, as well as provide a fun outing in the downtown with Wine About Winter.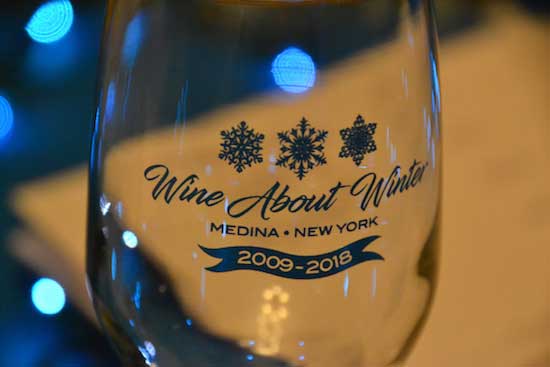 A souvenir glass highlights the 10th anniversary of Wine About Winter. Blackburn and Robinson of the MBA recalled the first event when they hoped to sell 144 tickets. They had 144 glasses made in 2009. There were 250 tickets for the debut Wine About Winter, with more than 100 people bringing their own glasses.
The event peaked in 2016 with 900 tickets sold. The MBA has considered capping it at 750 but there is too much demand.
Robinson said the wine-tasting has helped introduce people to many of the businesses in the downtown.
The MBA also has an Ale in Autumn event in September and a Sweets in Summer with chocolate and other treats in August.