Another 1st place for Medina band, with state competition 2 weeks away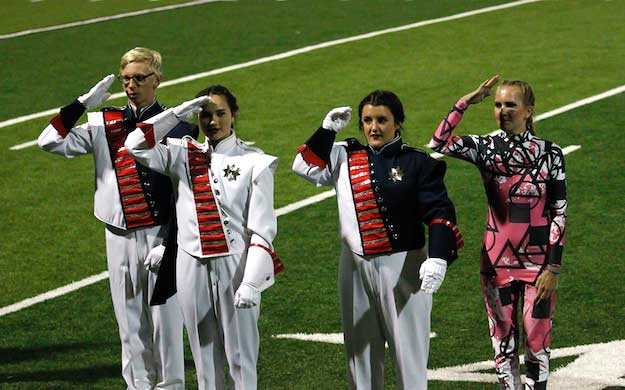 Courtesy of Medina Marching Band
The Victor Marching Band hosted a competition on Saturday with 11 bands performing on a chilly but dry night.
In SS1 Medina earned 1st place with a score of 84.45 followed by East Irondequoit in second with 81.50.
Other winners were Marcus Whitman in SS3 with 68.50; Hilton in LS3 with 74.50; Webster in LS2 with 79.85 and Cicero-North Syracuse in the National class with 89.50.
Medina will next perform on Oct. 20 at Orchard Park.
The state championships at the Carrier Dome in Syracuse will be on Sunday, Oct. 28. There is still time to get a seat on the spectator bus by contacting Jim Steele at 585-317-9389.
For true marching band enthusiasts there will be 53 bands performing in 6 divisions starting at 8 a.m. Medina performs in SS1 at 6:54 p.m.
The other divisions are SS3 starting at 8 a.m., SS2 at 10:15 a.m., LS3 at 1 p.m., LS2 at 2:50 p.m., SS1 at 6:15 p.m. and National at 8:10 p.m. As an added treat the University of Buffalo performs in exhibition at 5 p.m. and the Syracuse University at 9:54 p.m.
Tickets for the Dome are available at the door for $19 for adults and $13 for Seniors and children 12 years and under. Parking is $10. There is a new Dome policy which prohibits backpacks or purses. Only allowed bags are clear plastic vinyl and cannot exceed 12″ x 6″ x 12″ or you can use a gallon plastic bag. Additional info can be obtained at NYSFBC.org.