Andrew Meier nominated for 'Reshaping Rochester' award for work on Newell building
MEDINA – Andrew Meier is a finalist for an award that recognizes people in the Rochester region with "civic spirit, persistence and determination that translates visions into reality."
Meier, a former Medina mayor, was nominated for his efforts to revive the former Robert H. Newell Building on West Center Street in Medina. He was fresh out of law school when he bought the run-down historic building in 2005.
He has gradually brought the building back. It is now home to several businesses including the Shirt Factory Café, 810 Meadworks, Webster, Schubel & Meier law offices, the Hart House, a hotel with four rooms plus two lofts for extended stays. The historic site also has an outdoor performance venue in back.
Meier has been nominated for the Reshaping Rochester 2016 Betty Strasenburgh Award for Activism. The award will be presented Nov. 17 by the Community Design Center of Rochester. The non-profit organization of design professionals promotes healthy, sustainable communities by encouraging quality design of the built environment and thoughtful use of built and natural resources.
Meier is one of six finalists for an award that "recognizes a personal effort to advance a difficult and worthwhile endeavor. This award honors leadership that encourages others to pursue challenging paths toward a productive end."
Meier was 24 in 2004 when he decided to return to small-town Medina. He had just earned a law degree from Syracuse University after earning his bachelor's at the University of Rochester. Many of his law school friends settled into jobs at law firms in the big cities.
Meier returned to his hometown, working with David Schubel and Norris Webster at their law firm on Main Street. Meier bought a house in Middleport, renovated it and sold it. He liked that challenge, of bringing life back into an old building.
"I love architecture and I really love old buildings," Meier told Orleans Hub in a previous interview.
Meier had long admired the Robert H. Newell Building at 113 West Center St. The building for 86 years was home to the Robert H. Newell Shirt Factory, which manufactured custom-made shirts, including for many famous customers, including Winston Churchill and Bob Hope.
The Newell company left the historic building in 2004 and moved to Maple Ridge Road. The business closed in 2007.
The Village of Medina acquired the building after years of unpaid taxes. The three-story site had been neglected and was in disrepair. It was put up for sale in 2005, and Meier bought it. He was 25 at the time.
"It had great bones and potential," Meier said about the building. "I knew the risks going in. It was an opportunity that came up that I could not pass up."
He set about the task of methodically renovating and preserving the 14,000-square-foot building that opened in 1876, a site that was a hotel for its first 14 years before it becoming the Newell building.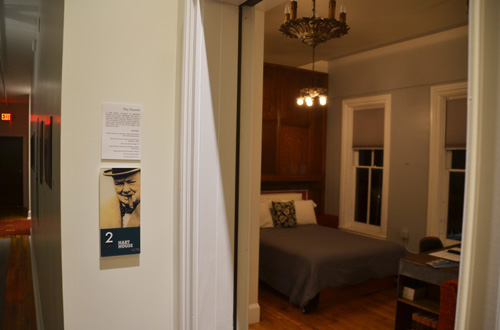 The Hart House Hotel includes rooms named for famous former Newell shirt customers, including Churchhill for the British statesman. There are also rooms named for Hope (legendary comedian) and Astor (wealthy industrialist from New York City).
Meier showed faith in the community when he invested in the Newell site. Cindy Robinson, the current Medina Business Association president, told the Orleans Hub in a previous article that Meier's example encouraged others to take a chance on Medina, and has been a big part of the downtown revitalization the past decade.
"He was one of the original risk takers," Robinson said. "He has been a catalyst for the downtown."
For more on the Reshaping Rochester awards, click here.