American Legion makes sure veterans' graves in Lyndonville are honored for Memorial Day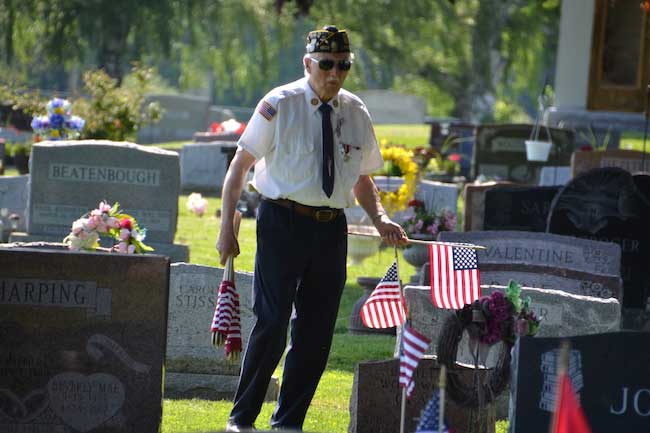 Photos by Tom Rivers
LNDONVILLE – Carl Boyle, a member of the American Legion in Lyndonville, was among a small group of volunteers who placed flags at 504 veterans' graves in Lyndonville cemeteries on Thursday.
Boyle said the number of veterans to honor on Memorial Day increases each year. Boyle is shown at Lynhaven Cemetery in Lyndonville. Legion members and other volunteers also set flags at four other cemeteries.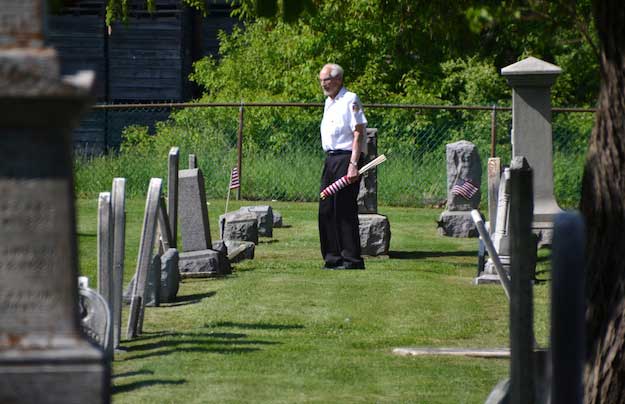 Weldon Barnum, another American Legion member, eyes veterans' graves at Lynhaven to set flags.
Lyndonville will observe Memorial Day on Monday with a parade starting at 9 a.m. at the Catholic Church on Lake Avenue and ending near the library on Main Street. A ceremony will be held there. The Yates Community Library has arranged to have many flags in the school front yard.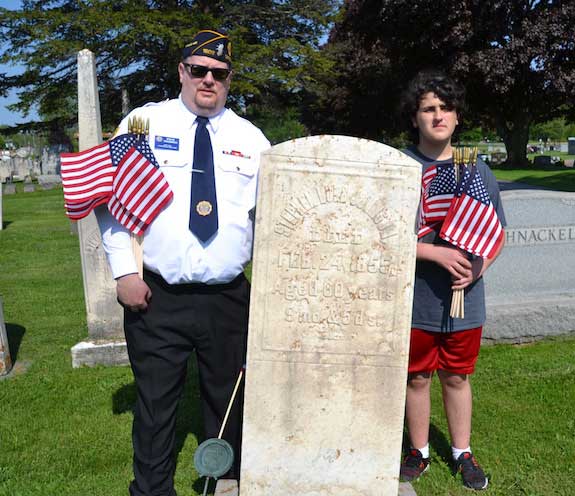 Steve Goodrich, commander of Houseman-Tanner Post 1603 in Lyndonville, presented a certificate of appreciation to Luke DiFato of Lockport on Thursday. DiFato, 16, volunteered a few days last summer to remove lichens, mold and mildew from veterans' gravestones. This headstone was covered in lichens last summer, and could barely be read.
Goodrich heard that Wet & Forget was effective as a moss, mold, mildew and algae stain remover. The solution doesn't need pressure washing or scrubbing. Goodrich heard that DiFato was looking to do community service with a veterans' project. He applied the Wet & Forget last summer and the solution knocked off the lichens from the headstones, many of which are more than a century old.
The Town of Yates is now interested in having Wet & Go used on other headstones that have lichens. Goodrich said the town is looking for volunteers to apply the solution. Interested volunteers should contact the Yates Town Hall (585) 765-9716 and leave a message for Goodrich to contact them.