ALDI will close for 2 weeks in Medina after shelves emptied
Tops limiting some cleaning supplies, food items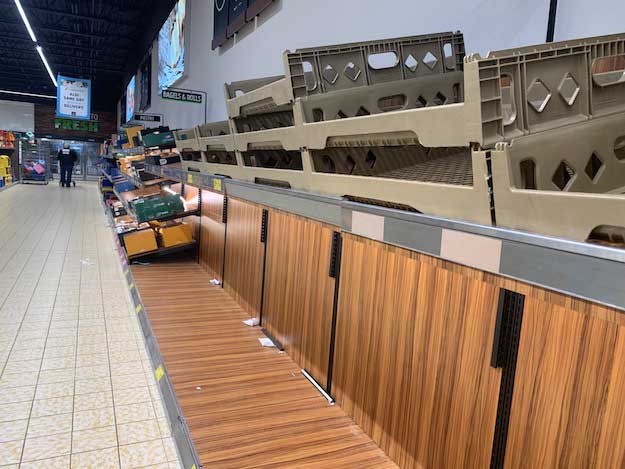 Photos by Tom Rivers
MEDINA – The shelves at ALDI in Medina are nearly empty at about 6 p.m. today. The shelves to right normally are filled with loaves of bread.
The store will close on Sunday and is expected to reopen in about two weeks. The other nearby stores in Brockport and Batavia will remain open, employees said.
Tops announced on Friday it is limiting some items to two (2) per customer to allow as much available inventory to assist as many customers as possible. Those items include:
• Disinfectant Wipes – Disinfectant Sprays – Hand Sanitizer – Bath Tissue, 18-roll pack or larger – Cleansing Flushable Wipes – 4 Total Gallons of Water per customer – This includes spring, distilled, purified or 3-pack gallon water – Multipack water are limited to two (2) total per customer. This includes all brands of water.
A statement from Tops on the company website says:
"We appreciate your patience as our supply chain and distribution teams have also been working around the clock to ensure that the food, cleaning supplies, household essentials, and pharmaceuticals that you need are reaching our stores as quickly as possible and are available to purchase in-store, with grocery pick-up, or by delivery."
Tops also is cleaning its stores and common areas even more to protect customers and employees.
The company has taken the following actions:
• increased communications with our stores and associates and reiterated proper sanitation procedures
• added extra supplies like hand sanitizer, disposable gloves, and disinfectants to help combat the spread of germs
• increased cleaning cycles especially in commonly used areas like cashier stations and self-checkouts
• increased the frequency of sanitizing and cleaning of food contact surfaces, pharmacy counters, restrooms, break rooms and other public areas.