ALDI donates gift cards to Meals on Wheels program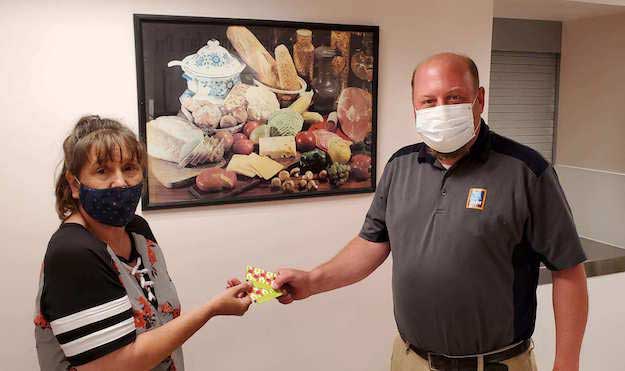 Provided photo
ALBION – Dan Leverenz, the ALDI store manager in Medina, presents $525 worth of gift cards from the store to Vicki Havholm, Meals on Wheels coordinator in Orleans County.
Leverenz visited the site on East Academy Street in Albion on Monday.
Meals on Wheels is run by The Arc of Genesee Orleans in partnership with the Orleans County Office for the Aging.
The congregate meal sites remain closed in Albion and Kendall, but Meals on Wheels continues to deliver 122 meals to senior citizens around the county, Havholm said.
Meals on Wheels drivers deliver the lunches and also do wellness checks. The drivers have been wearing gloves and masks during the Covid-19 pandemic.
"We're always looking for volunteer drivers,"  Havholm said.
For more information about volunteering, call Meals on Wheels at 589-7817.
The OFA refers senior citizens in the program. Havholm said some of the routes have a waiting list. The routes are planned so the meals can all be delivered hot within 2 hours.