Albion's honor grads urged to pursue lofty goals with passion
23 students in 2018 graduating with GPAs at 90 or above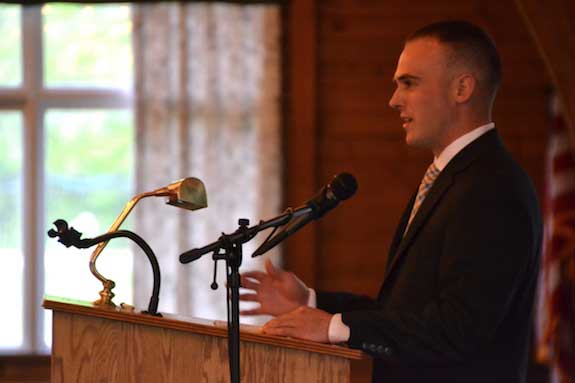 The honors students at Albion heard from a recent Albion graduate who has stayed active in the local community while working as a state trooper. Steven Papponetti, Class of 2011, was guest speaker for Monday's event.
He spoke of the importance of setting short- and long-term goals, and embracing assignments with a passion, whether it's writing an essay, doing homework and taking needed training to improve your skills.
Papponetti said he had stumbles on his career path, but didn't let disappointments deter him.
Students, as they move on to college or other stages in life, should surround themselves with good friends, Papponetti said. He urged the honor grads to be involved in clubs in college. That will give them a network of support and friends who will be like a family.
Papponetti was a swimmer at Albion and played on the golf team. A favorite memory from school was the loud cheering during the home swim meets.
While a student at Albion, Papponetti participated in the Workplace Internship Program, interning at the Medina Fire Department and the Albion Police Department. He was also involved in the Albion Fire Department's Explorer program and in 2009 was named Explorer of the Year.
He attended Hilbert College and participated in the Leadership Program his freshman through senior years. He graduated with honors and earned his Bachelor of Science in Forensic Science/Crime Scene Investigation. He attended the Law Enforcement Training Academy in 2015 and the New York State Police Academy in 2016.
He worked as a police officer for the Holley and Brockport police departments, with his ultimate goal to be a state trooper. Papponetti became a trooper on April 5, 2016. He wants to become an investigator and a K9 officer for the State Police.
He continues to be a volunteer firefighter and is currently a 1st Lieutenant in the Albion Fire Department. Three times he has been named Albion's Firefighter of the Year.
He ended his speech with a quote from Theodore Roosevelt: "Do what you can, with what you have, where you are."
Margy Brown, Albion Board of Education president, said Papponetti is an "excellent example of our district motto of 'Achievement, Character and Success for Life.'"