Albion's Community Kitchen has been busy during pandemic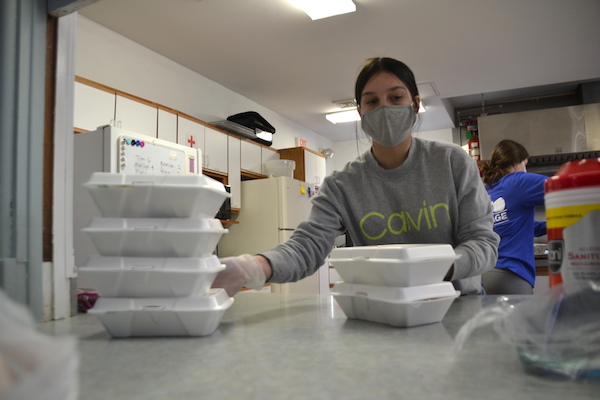 Photos by Tom Rivers
ALBION – Sarah Mathes of the Albion Rotary Interact Club has to-go meals ready on Friday at the Community Kitchen at Christ Church. Allison Mathes is in back.
The kitchen has had a very busy year since last March, serving 19,000 meals to go or an average of 380 a week from 4:30 to 6 p.m. That includes about 30 to 50 meals each week delivered to shut-ins by Faith Smith, the kitchen's director, and her husband, Michael.
Before the pandemic the kitchen was serving about 150 meals a week. The dining room has been closed for in-person dining since last March 7. Smith, the kitchen's volunteer director since 2009, is hopeful the Covid restrictions will be eased soon and people can return to eat the meals at the dining.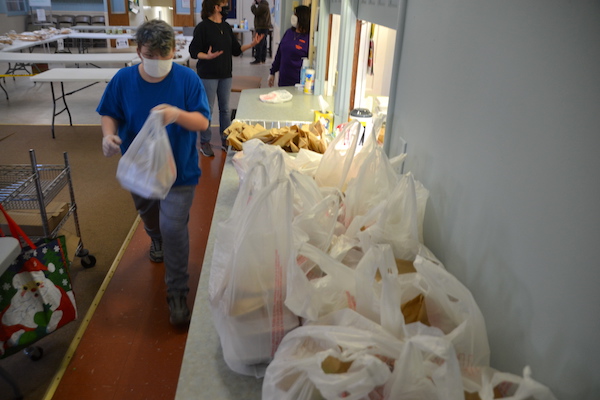 Dalton Dexter, a member of the Interact Club, retrieves some of the meals on Friday for people who stopped by the side door of Christ Church, which hosts the kitchen. Faith Smith, the kitchen's director, is in back at left talking with Della Morales, the high school media specialist.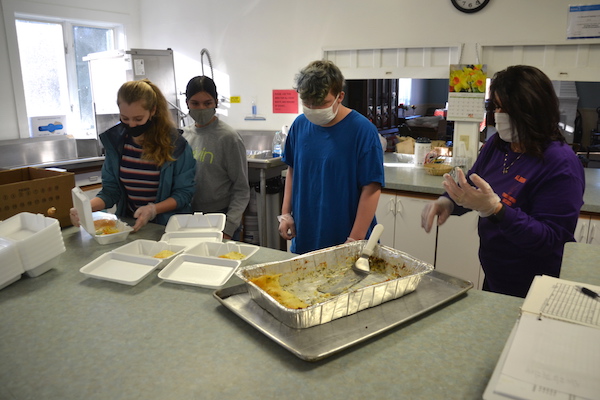 Della Morales, right, prepared a vegetarian lasagna in spinach alfredo sauce for the dinner on Friday. She is with Interact Club members, from left: Lily Mathes, Sarah Mathes and Dalton Dexter.
The meal also included a brownie with green frosting for St. Patrick's Day.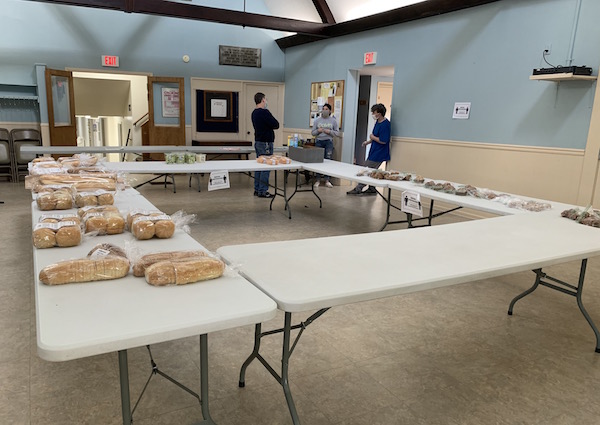 The kitchen also receives donated items that people can take home, including bread, muffins, produce, butter, salad fixings and other food.
The second Friday of the month includes volunteers from Albion Central School. Teachers, staff and students prepare and serve the meals the second Friday.
The Albion and Medina Lions Clubs take care of the first Friday, Holy Family Parish does the third Friday and the Albion Free Methodist Church is on duty for the fourth Friday. The West Barre United Methodist Church does the fifth Friday.
"I am the director of Christ Church Community Kitchen but without the help and support from the entire community this kitchen would not be where it is today!" Smith said. "Thank you to all who volunteer and donate to help keep this kitchen open and serving everyone in need."
For more information about the kitchen, check the group's Facebook page or email Smith at communitykitchen2009@gmail.com.