Albion's Class of '71 will celebrate 50th reunion a year late in 2022
Covid-19 restrictions derailed plans for big bash this year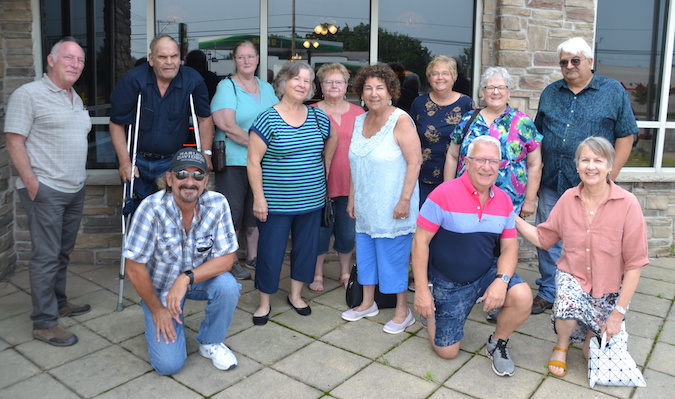 Photo by Tom Rivers
ALBION – Some members of the Class of 1971 in Albion met for breakfast on Tuesday at the Village House in Albion.
There  are about 180 members of the class and many of them were looking forward to a big celebration this year for the 50th reunion. However, Covid-19 restrictions and concerns prevented the class from setting up a big party.
The group will hold its reunion next year on the 51st anniversary of the graduation.
Pictured from left, kneeling, include: Bernie Baldwin, Tom Fiorilli and Susan Mack.
Back row: Bill Munger, David Kelley, Mary Donahue, Delores (D'Amico) Martusciello, Elizabeth (Thom) Cowan, Cindy Piedimonte, Roxie (Gaylard) Basinait, Barb (Karls) Dawson and Larry Gaylard.
Some of the class in 2016 started getting together monthly for breakfast at the Village House. That ceased in 2020 during Covid, but restarted last month.
"Everybody is welcome to come to these breakfasts," Barb Dawson said. "Covid really derailed us but our class is determined to stick together."
She urged the class members to stay connected through the class Facebook page, and start making plans for the big reunion.