Albion youth football thankful for new scoreboard at Bullard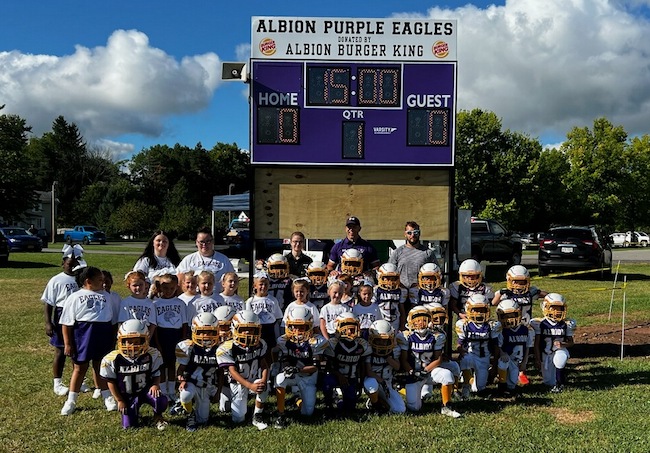 Provided photo
ALBION – The new scoreboard has been installed and is in use for the Albion youth football games at Bullard Park.
Players, cheerleaders and coaches recently gathered for a photo with a representative from the Burger King in Albion. Mark Cammilleri, owner of the local Burger King, covered the cost of purchasing the scoreboard. Shelby Hollenbeck, a Burger King employee, joined the AYSAP group for a photo celebrating the new scoreboard which was installed by the Village of Albion Department of Public Works.
"The ability to have the scoreboard is huge for our organization," said Geno Allport, the AYSAP commissioner for Albion. "Instead of having to worry about the officials keeping the time on the field and having people wonder what's the score, quarter and time remaining. Mark and Albion Burger King have relieved a lot of stress from our organization."
The Albion youth teams will have home games on Saturday at Bullard and they will be selling T-shirts in support of Maddox Pearl, a 5-year-old Albion boy who has been diagnosed with a brain tumor. Proceeds will go to Maddox's family.