Albion working to fix major water main break on Route 98
Customers may have reduced pressure or no water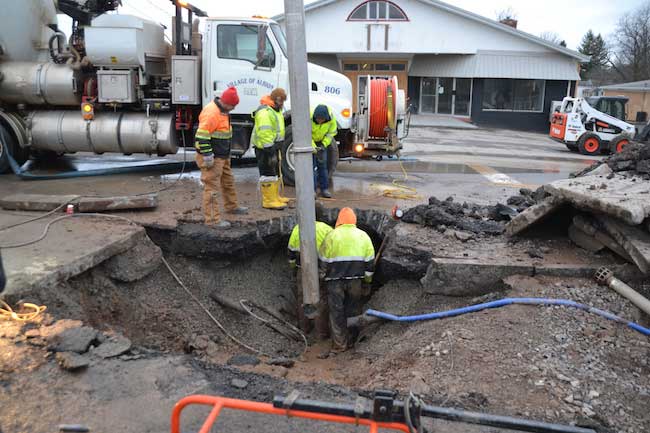 Photos by Tom Rivers
ALBION – Village of Albion Department of Public Works employees are digging under Main Street, just north of the Erie Canal, this morning to get to a broken water main.
This is the main waterline that feeds much of the village and the Barre water tank.
Many customers are already reporting they don't have water or greatly reduced pressure.
The village shut down a booster station to reduce the water being pushed through the line.
The village was alerted to a water problem at about 1 a.m. last night on New Year's Eve when the Clover Hill Adult Residence on South Main Street called in to say it didn't have water.
Someone also called dispatch to report water was spewing out of the ground on Main Street near the canal. Jay Pahura, the DPW superintendent, confirmed the leak and brought in a crew. They have been working all night, at times in 50 mile per hour gusts.
As of 9 a.m., they hadn't reached the watermain under Main Street to see what needs to be done to fix it.
Pahura said water customers, including some in Barre, should expect reduced pressure and possibly no water until it's fixed.
There is also a detour around the spot on Main Street, from Bank to Caroline streets, while the DPW is working to fix the water main break.