Albion woman has been bowling 60 years, since Oak Orchard Lanes opened
Elsie Boring enjoys the friendships and competition at the bowling alley
ALBION – Oak Orchard Lanes is celebrating its 60th anniversary this year. One of the constants over those six decades has been Elsie Boring, one of the top bowlers in the ladies' league.
Boring, 80, started bowling at age 20 with her late husband Chet. She bowled with him in a couples' league and bowled with women on Tuesday nights.
She had the top average for many of those years. Currently, her five-woman team is ranked third out of the 10 teams in the league. The team is known as Franny's Angels in honor of the late Fran Nayman. For many years he was the team's sponsor.
Boring enjoys the chance to see friends once a week at the bowling alley on Route 98. Many of the other bowlers in the league are young enough to be her grandchildren.
"It's enjoyable," she said. "It's a night out."
Boring, when she was in her 60s, was carrying a 175 average for the season. She has bowled a 248 game before, and often broke 600 for a three-game series, including one day when she had three games at exactly 201.
She is disappointed she isn't at that level anymore. She said arthritic knees make it hard to bend down on her follow through. She currently has a 117 average.
"I can't do what I used to do anymore," she said.
She is using a lighter ball these days, down from 15 pounds to 9 pounds. The lighter ball doesn't get the same pin action as a heavier ball.
But her teammates said she is still consistent and formidable at the bowling alley. Boring throws a straight ball with a slight hook at the end.
"She has always been a tremendous bowler," said Marcia Zambito, an alternate on the team.
Bowling has been a big family activity. Boring's late husband Chet enjoyed the sport, and the couple taught their children – Susan, Darlene and Brett – to love the game as well. Susan bowls in the same league with her mother, on a different team, and currently has the highest average, 185, among the 50 bowlers in the league. Her brother Brett bowls in the men's league and has a perfect 300-game to his credit.
Oak Orchard Bowl is celebrating its 60thanniversary this month. Randy Hanks, owner of the bowling alley since 2006, said Boring stands out as a league bowler during all 60 years of Oak Orchard's existence. (It was originally Oak Orchard Lanes but changed its name to Oak Orchard Bowl in 2004.)
Boring, who is retired after 32 years as chief clerk for Orleans County Family Court, remembers when all 18 lanes were used by the league, and then a second group of teams would play later at night, for 36 teams total. Sneezy's Bowling in Albion also hosted leagues. That 8-lane alley closed in 1997.
She is encouraged to see a lot of women in their 20s and 30s are bowling in the league, which runs for about 30 weeks from November to April with a weekly charge of $12. That price hasn't changed in years.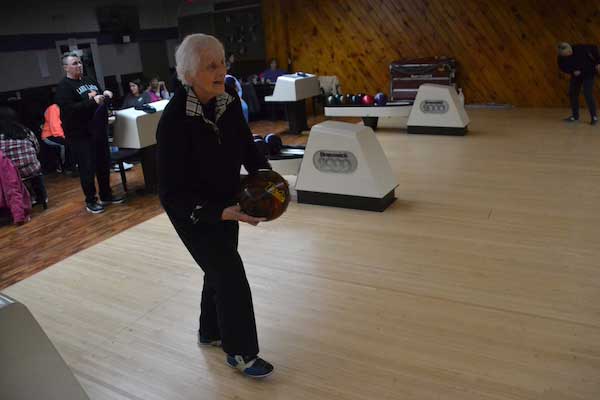 Pat Hellert, 81, is another long-time bowler. The retired Albion fourth-grade teacher at Albion has been a teammate with Boring for many years and has been in the ladies' league for at least a half century. Hellert is carrying a 123 average this season.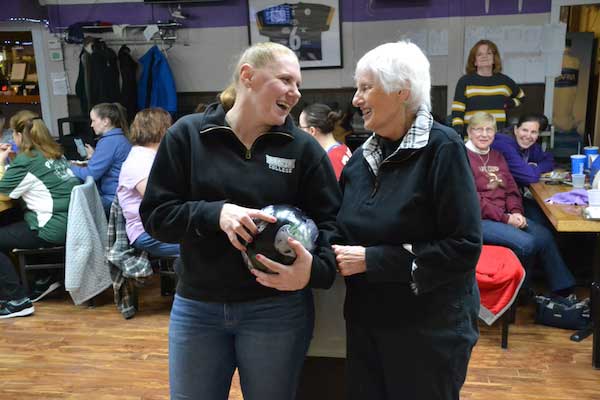 Pat Hellert jokes with Alishia Foss, 27, of Brockport. Foss, a Medina native, was bowling opposite Hellert on Tuesday. Foss said the older bowlers in the league are inspiring.
"Watching them bowl and throw the ball down the lane is so cool," she said.