Albion trustees, mayor apply stain to new utility building at Bullard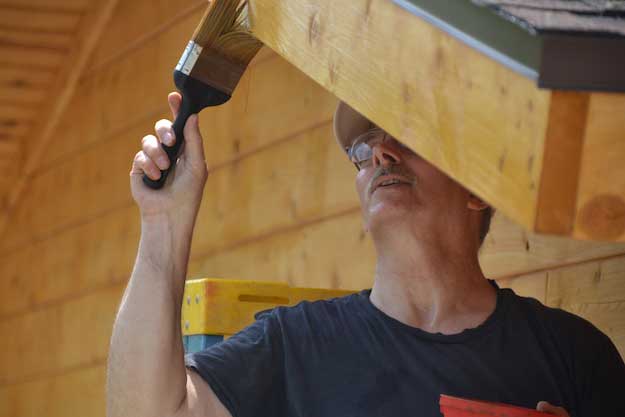 Photos by Tom Rivers
ALBION – Gary Katsanis, a trustee on the Albion Village Board, applies stain on Albion's new utility building at Bullard Park.
He joined Mayor Eileen Banker and Trustee Stan Farone in putting the first coat of stain on the cedar siding and wood on the building, which has bathrooms, storage, equipment and infrastructure for the spray park.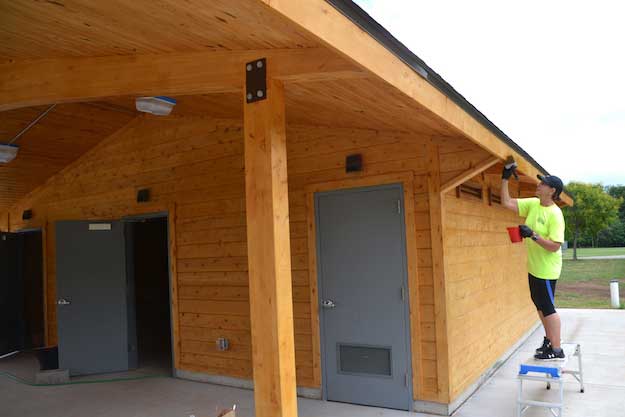 Mayor Eileen Banker spent most of Wednesday and part of today applying the stain. She said the village is doing everything it can to get the park open.
The trustees volunteered with the first coat, and will be applying another coat of stain and then polyurethane.
Banker said the Department of Public Works is busy with other projects in the village. The DPW has worked on the site last year and many months of 2020. The DPW had to work at 50 percent capacity for six weeks of the Covid-19 pandemic which put the DPW behind schedule.
There is electrical work that needs to be done before the spray park can open, and the village would like to see more grass grow by the site so mud is less likely to clog the drains. Next year sidewalks will be added leading to the spray park.
Once the utility building is done, the trustees and mayor will put the stain on the new amphitheater.
Katsanis said volunteers can't be accepted for the projects due to liability. The board members can do it because they are covered in the village's insurance.