Albion theater class produces own musical based on children's book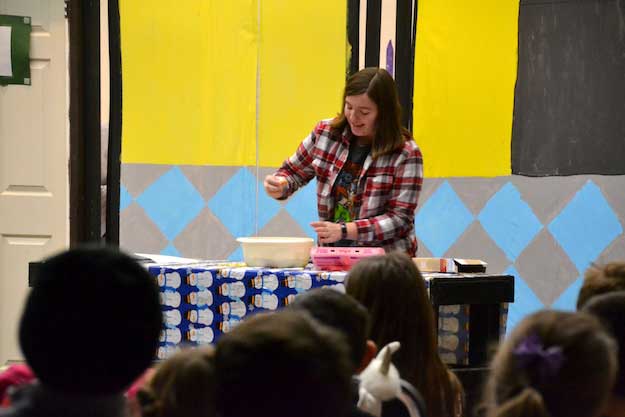 Photos by Tom Rivers
ALBION – Abby Allen plays RJ in a musical written and produced by students in a high school introduction to theater class. The play is based on a children's book – "The worst day of my life ever!" – that was read by elementary students. She is making pancakes in the kitchen but they don't turn out well because she didn't follow the recipe.
The high school students performed a 20-minute musical, acting out scenes and dialogue from the book, for elementary students in the high school LGI.
RJ is the main character in the book by Julia Cook, an author who visited the school earlier this year. RJ is having a rough day. He wakes up with gum stuck in his hair, misses recess because he's late to school, earns a zero on his math homework and messes up his mother's kitchen.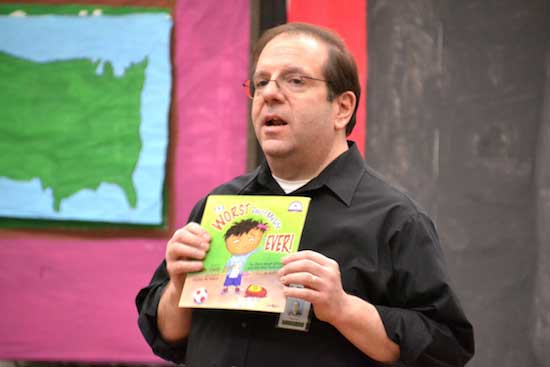 Gary Simboli, the theater teacher, gives an overview of the musical based on the book he is holding. Simboli is addressing students on Jan. 18, when the class performed in front of 260 students.
The book teaches fundamental social skills of listening and following instructions. When RJ learns to use these skills the right way, he has a much better day.
The theater class created the musical after a suggestion from Jennifer Ashbery, vice principal in the elementary school.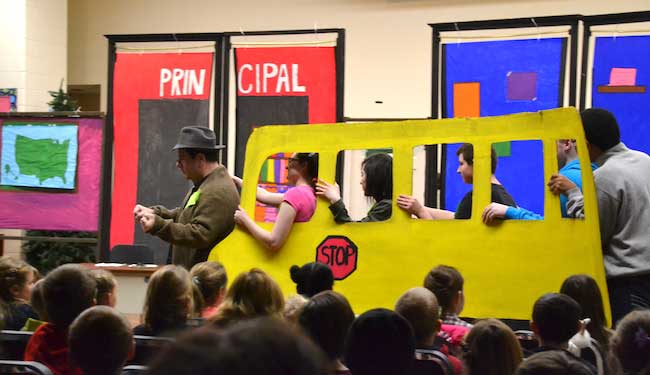 Simboli is the bus driver as the school day starts for students, from left: April Henchen, Evelina Alexandris, Dyllan Beach, Colby Ferchen and Shamar Jakes.
The class has 10 students. They created the set for the musical. Abby Allen and Aubrey Boyer wrote the script for show.
The performance by the students was the final exam for the class.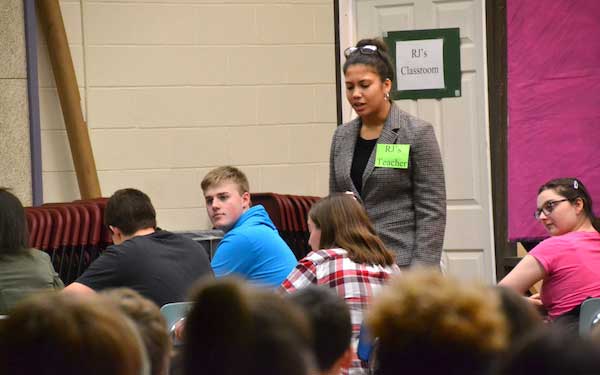 Annabella Salisbury plays the teacher in the musical. She is frustrated with RJ for not listening to instructions. Salisbury also wrote the score, overture and lyrics for the music in the show.
The students created this large banner that includes principles in the book. The left side has the following tips for listening: Look right at the person talking to you. Please do not speak until she is through. Show that you've heard what she's trying to say, by nodding your head and saying, "okay."
The right side has advice for following instructions, including: Look right at the person who is talking to you. Say "okay" to the person as soon as he is through. Do what you have been asked, and do it right now! When you are finished, check back with them.