Albion teachers pour themselves into more community service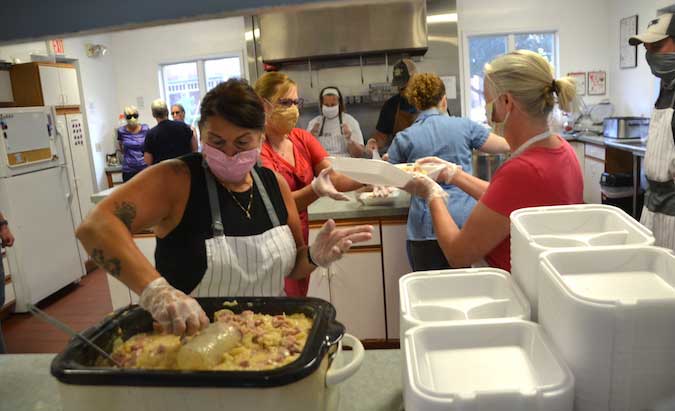 Photos by Tom Rivers
ALBION – Albion teachers worked in the Community Kitchen on Friday at Christ Church. Della Morales, left, is the high school media specialist. She scoops a serving of ham and scalloped potatoes.
Julie Keller, a second grade teacher, is at right.
"We've been looking for more opportunities to let the students we're still here and we want to be involved with them for a long time," Morales said.
Albion just recently teachers started volunteering with the kitchen. On Friday, they arrived at 11 a.m. to start preparing a meal for more than 200 people.
Chris Keller, president of the Albion Teachers Association, said the group has been looking for more ways to serve the community.
"We've been trying to do more community outreach," Keller said. "We have awesome people who have just been chomping at the bit."
He praised the kitchen's director Faith Smith and her husband Michael for their long-term commitment to preparing the meals and serving the people. Smith, the director the past 11 years, tries to line up donations and secure food to make a well-balanced meal.
The teachers are going to work in the kitchen the third Fridays this summer. They donated $200 to the kitchen, in addition to volunteering.
Faith Smith, the Community Kitchen director, said the teachers have been a big blessing. They have been prepping, cooking and serving to-go meals.
"They are a great group of people who work very well together," Smith said. "They not only are giving their time to volunteer but they are also collecting donations for the kitchen."
She praised them for their efforts on Friday in a hot kitchen, making the scalloped potatoes and ham, and baking brownies.
"They are going above and beyond teaching in the classroom and giving back to the community," Smith said. "I think what they are doing is wonderful. I am grateful they choose to help and support the Community Kitchen."
The teachers on Thursday also did a parade through the school district, spending two hours on the road, going by homes in Albion, Barre, Carlton and Gaines.
The ATA also purchased banners that are on the tennis courts, congratulating the Class of 2020.
The group earlier this month also paid for a platter of sandwiches for the staff and The Villages of Orleans Health and Rehabilitation Center in Albion, and also purchased plants for residents.
The teachers for at least the past five years have had a spot in the downtown during Beggar's Nite, handing out candy to hundreds of children the Friday before Halloween.
Teachers also have had a booth at the Albion Strawberry Festival, giving out several hundred books for children to read over the summer. This year's festival was cancelled, but it is expected to be back next June.