Albion teacher wins state-wide award from VFW
Tim Archer praised for honoring veterans, promoting citizenship
ALBION – An Albion teacher has won a state-wide teaching award from the Veterans of Foreign Wars for his work promoting citizenship and connecting his seventh-grade students with projects honoring veterans.
Tim Archer is now under consideration for the national VFW award for a middle school teacher. The VFW each year honors an elementary, middle and high school teacher.
"I'm impressed with everything he's done," said Earl Schmidt, the Orleans County Veterans Service Agency director, and a member of the VFW. "He goes above and beyond."
Archer and his class have worked on several projects honoring veterans. Their next effort will be rededicating a World War I bronze plaque on the Orleans County Courthouse.
The memorial was given by the American Legion, which asked Archer to help find a suitable place to display it. That marker will be rededicated at 3 p.m. on June 9, going back to its original spot on the Courthouse.
Dan Monacelli, the middle school principal, said Archer has been "an amazing mentor" to his students, inspiring them in them service projects, while promoting citizenship and flag etiquette.
"This is a big deal," Monacelli told one of Archer's classes on Tuesday. "It's big because of his hard work and because you kids buy into it."
Students secured a proper cemetery marker for one Civil War veteran at the old St. Joseph's Cemetery in Albion. Hey painted 160 Civil War markers (Grand Army of the Republic) that were rusting at Mount Albion Cemetery. They dedicated a historical marker for the lone Orleans County veteran who died at Gettysburg.
"He brings the curriculum to life," Monacelli said. "You can reach out and touch it."
Archer, in addition to the community projects honoring veterans, has many veterans come and and speak to his classes.
Some of the recent projects Archer has led with his students include:
Historical marker unveiled for local soldier who died at Gettysburg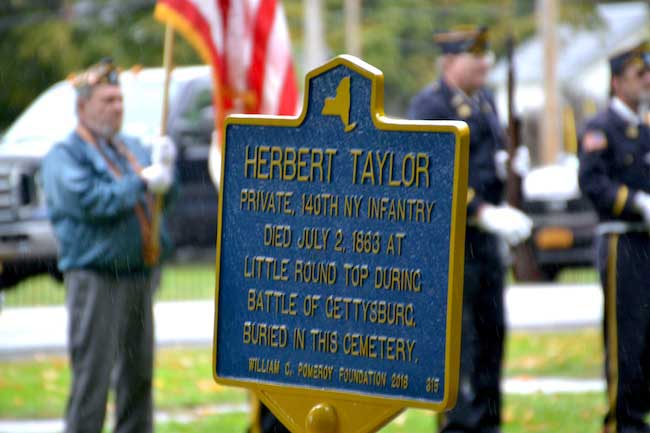 On Oct. 8, 2016, a new historical marker for Herbert Charles Taylor, the only Orleans County resident believed to have been killed in the Battle at Gettysburg, was unveiled at Hillside Cemetery.
The local Honor Guard is pictured in the background of this photo. Taylor is buried in the older section of Hillside Cemetery, a historic site in the Town of Clarendon, just south of the Village of Holley.
Gettysburg was the Civil War's deadliest battle with about 23,000 Union casualties and about 28,000 killed from the Confederacy. Taylor,  a member of the 140th N.Y. Infantry, was with his regiment at Gettysburg on July 2, 1863 and repulsed the attack on Little Round Top.
---
Marker added at Civil War section of Mount Albion, and GAR markers repainted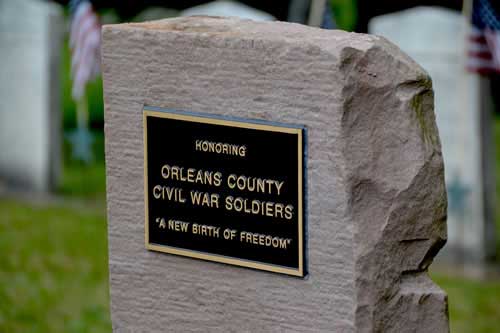 Albion students on May 26, 2016 dedicated a new marker at the Civil War section of historic Mount Albion Cemetery. Students researched local Civil War soldiers. Archer and the students also repainted about 160 GAR grave markers for soldiers who fought for the Union in the Civil War.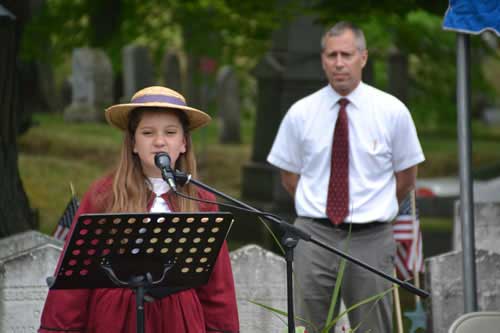 Seventh-grader Emily Merger wore a period dress for the ceremony last May. She said women also made many sacrifices during the Civil War, keeping houses, farms and businesses running while caring for children while their husbands were at war or killed in battle. Tim Archer, the Service Learning teacher, is in back.
---
Civil War soldier gets headstone 101 years after death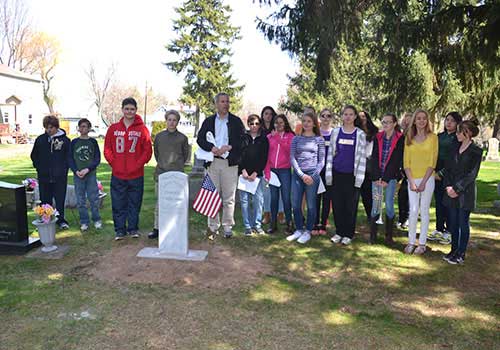 A new headstone was unveiled on April 30, 2016 for John Frost, a principal musician (chief bugler) for the 33rd New York Infantry and also the 3rd Brigade, 2nd Division of 6th Corps. Frost was buried in St. Joseph's Cemetery on Brown Road in 1915.
Frost raised five children in Orleans County and sold coal for a living. In 2015, the Holy Family Parish was going through records at the cemetery and realized that John Frost never had a headstone. County Historian Matt Ballard, a member of the parish and also the Knights of Columbus, shared the story with Archer,who then told his students about Frost.
The students wanted Frost to have a headstone. They worked with the Veterans Service Agency in Orleans and Niagara counties to secure a headstone for Frost. The marble stone was unveiled about a year ago.
---
Bronze memorial for World War I vets headed back to Courthouse
The latest project for Archer and the students includes finding a fitting home for the bronze marker that lists the names of 24 local residents from the school district (towns of Albion, Barre, Carlton and Gaines) who died in World War I.
The American Legion Sheret Post #35 donated the large 3-by-5-foot bronze plaque memorializing 24 local WWI soldiers. The plaque has been displayed in various indoor locations, but was most recently in storage, not visible to the public.
After being impressed by the students work last year on area Civil War soldiers, the local American Legion Post felt it fitting to donate the plaque to the hard-working students on the 100th anniversary of the United States entrance into WWI.
Archer was willing to accept the challenge to have the memorial placed back in the community.
"Our kids will learn a great deal about courage, integrity, and self-sacrifice," Archer said in September. "There is no greater example of 'loving thy neighbor' than laying down your life for another. We all need role models like this."
Those listed on the plaque include: John D. Arnett, Albert Beary, Jesse S. Brooks, John A. Butler, Leo. F. Christopher, Oliver E. Clement, Ronald F. Corey, Robert B. Densmore, Harry H. Dibley, Frederick Green, John Kurzawski, Martin Larwood, Louis Monacelli, Dewey Mott, Benjamin A. Needles, Leonard Osborne, Adolfo Passarelli, Stanley Rutkowski, James A. Sheret, Egbert Sheret, John H. Stevens, Alexander Wilson and Stanley P. Zyglarski.