Albion students test oratorical skills in annual Legion contest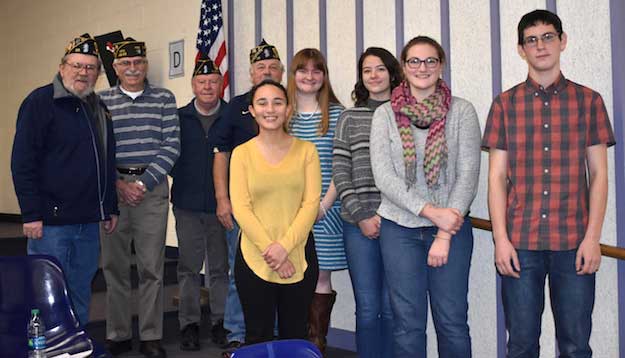 Photo courtesy of Albion Central School
ALBON – Albion students competed in the American Legion's Oratorical contest on Nov. 28. Pictured from left include: American Legion Post # 35 Adjutant Gary Beefus, Joe Gehl (Board of Directors), Post Commander Wally Skrypnik, Phil Warne (Finance Officer), Avalina Hand (in front), Melissa Barnosky, Molly Wadhams, Ashlyn LeBaron and Conner Hollenbeck.
The five students participated in the annual event, which is coordinated by social studies teacher Rich Gannon.
Melissa Barnosky took first place with her oration entitled, "Civic Knowledge: The Key to our Vigilance."  Molly Wadhams placed second with her oration, "Freedom of Speech."  Avalina Hand spoke about "The Responsibilities of the American People."  Ashlyn LeBaron's speech was entitled, "Religious Freedom through the Ages," and Conner Hollenbeck delivered his speech, "How the Constitution Shaped our Nation."
Melissa and Molly will continue on to the County level. They will deliver their speeches on Dec. 8 at noon in the Medina High School Auditorium. The event is free and open to the public.