Albion students create new interpretive panel about Erie Canal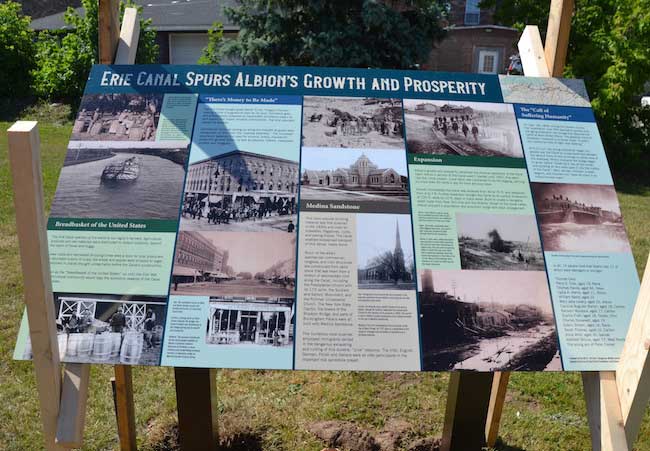 Photos by Tom Rivers
ALBION – A new interpretive panel was installed on Friday by the Erie Canal. The Albion Department of Public Works added the panel, which was created by seventh-grade students at Albion who are in a service-learning class taught by Tim Archer.
The students worked with County Historian Matt Ballard in researching and designing the panel which is located between the Main Street and Ingersoll Street lift bridges.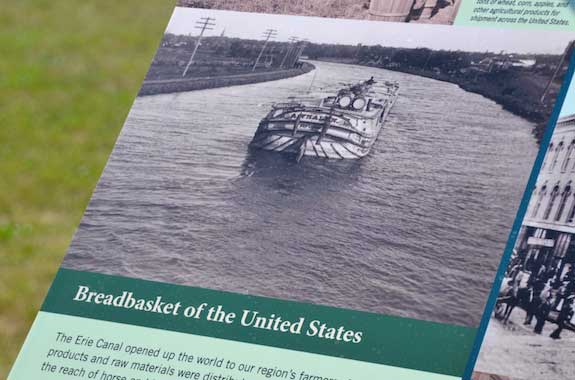 The panel highlights how the Erie Canal opened up the world to our region's farmers. "Agricultural products and raw materials were distributed to distant locations, beyond the reach of horse and buggy," the panel states.
"Lower costs and decreased shipping times were boon to local producers. An abundant supply of crops like wheat and apples were shipped to eager consumers in places thought unreachable before the Canal's construction."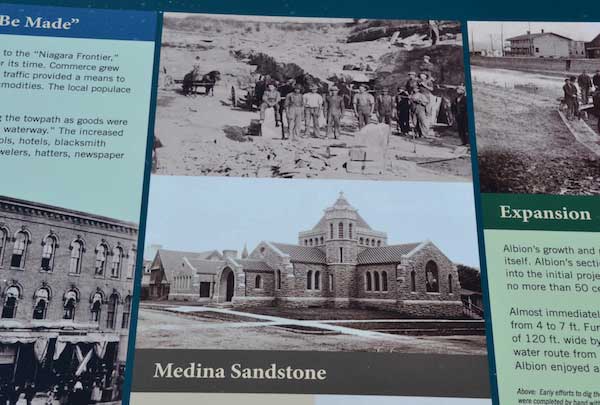 Medina sandstone quarries were developed near the canal and the stone was shipped to create curbs, roads, and many buildings, including many of the most prestigious churches and public buildings in canal cities in Upstate New York. The quarries brought thousands of skilled immigrants to the community to work at cutting stone.
"The Erie Canal brought great wealth to the 'Niagara Frontier,' making Albion a progressive town for its time," according to the panel. "Commerce grew and entrepreneurs prospered as Canal traffic provided a means to both export and import valuable commodities. The local populace reaped the benefits.
"Commercial buildings sprang up along the towpath as goods were transported up and down the 'express waterway.' The increased population spawned the need for schools, hotels, blacksmith shops and general stores, as well as jewelers, hatters, newspaper printers and druggists."
The panel also highlights a tragic event on the canal in Albion. On Sept. 28, 1859, 15 people were killed, including 11 teen-agers or younger, when a bridge collapsed on Main Street when 250 people crammed on it to watch a tightrope walker.