Albion students celebrate the past with Ghost Walk at Mount Albion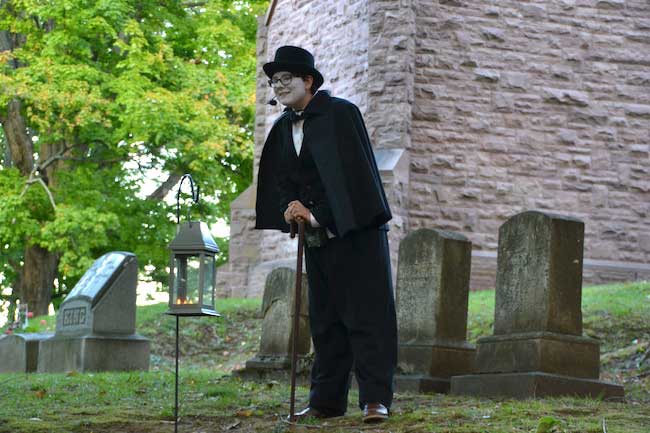 Photos by Tom Rivers
ALBION – Albion student Nia Rodriguez portrays Nehemiah Ingersoll (1788 – February 28, 1868), who played a major role in the development of Albion, donating land for the county courthouse and jail, and parceling out 100 acres of land in the downtown for development. He was one of about 15 interesting people from Albion's past who were highlighted during a Ghost Walk on Saturday at Mount Albion Cemetery.
About 400 people attended the 10th annual Ghost Walk put on by high school students. There were nearly 70 students involved in the production.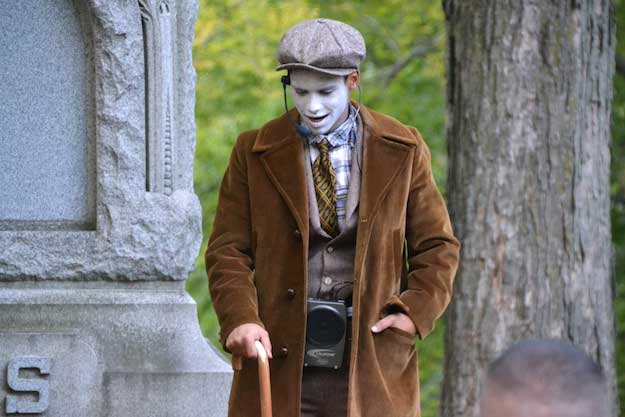 Ryan Krenning is Hiram Curtis (April 1804 – May 17, 1871). He owned a foundry along the Erie Canal currently occupied by the Lake Country Pennysaver and Orleans Hub. Hiram manufactured agricultural implements including plows, cultivators and reapers. His company made 1,000 plows annually in a variety of patterns. The Erie Canal was a perfect place for his business allowing him to receive raw materials and ship finished product throughout the state and beyond.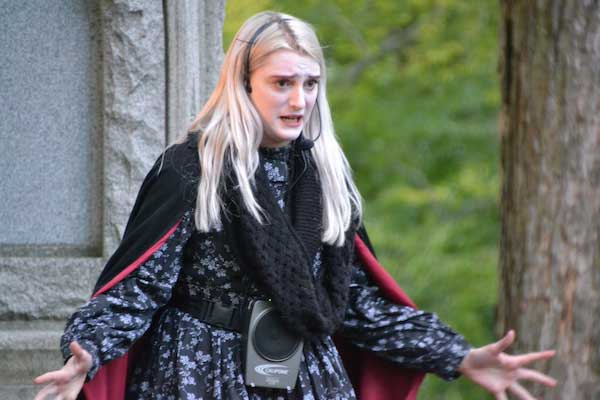 Emma Tower portrays Jennie Curtis (1837 – October 23, 1921). She was the daughter of Hiram Curtis. Jennie was a spirited young woman who is considered to be the first female prisoner of the Civil War. She was thought to be a Yankee spy, but was eventually released and the charges were dropped.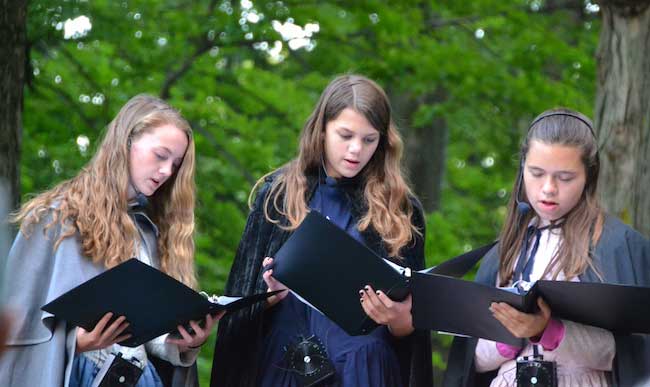 In addition to portraying ghosts, students provided music at stops along the cemetery. Here students are shown singing, "Amazing Grace." The trio includes, from left: Brie Haines, Lily Zambito and Alison Mathes.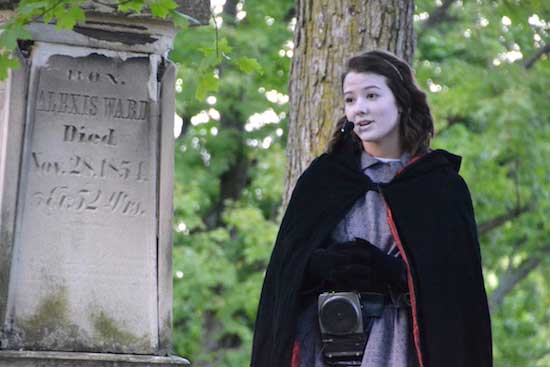 Molly Wadhams portrays Laura Ward, wife of Judge Alexis Ward (1802 – November 28, 1854). Alexis Ward was Orleans County Judge from 1830-1840. He was instrumental in coordinating the Rochester-Lockport-Niagara Falls Railroad and the suspension bridge across Niagara Falls River. He was a supporter of public schools. In 1854 he was elected to the Assembly, representing Orleans County, but he died before he could take office.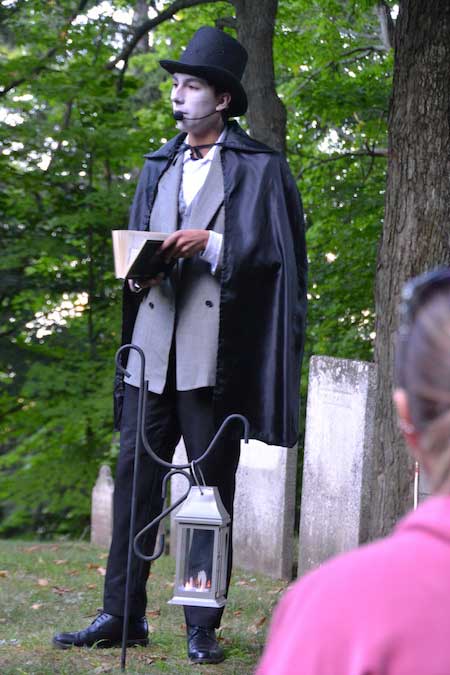 Chase Froman impersonates Governor Rufus Bullock (1834- April 27, 1907). Bullock graduated from the old Albion Academy in 1850. His background in telegraphy helped him to invent a combination printing telegraph system that was used in many large cities. He moved to Augusta, Ga. and became assistant superintendent of the Adams Telegraph Company and formed the Southern Express Co. When the Civil War broke out, he worked with the Confederate Government and was in charge of the railroads and telegraph lines. After the war he helped organize the First National Bank of Georgia and the Republican Party. He was a key player at the Constitutional Convention and was unanimously nominated for governor. He was elected governor in 1868 and was instrumental in the reconstruction of Georgia with over 600 miles of new railroad built during his tenure.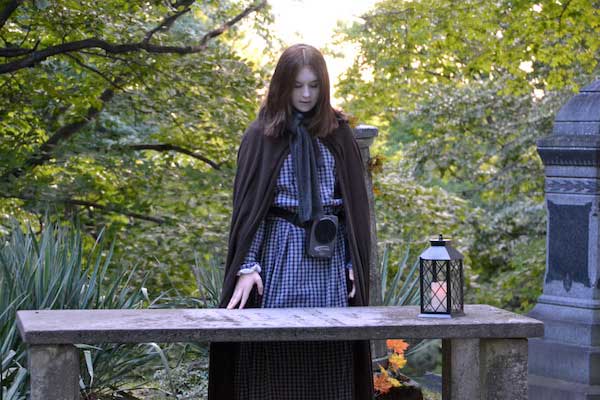 Olivia Morrison represents Hannah Avery at the only "tabletop grave" at the historic Albion cemetery.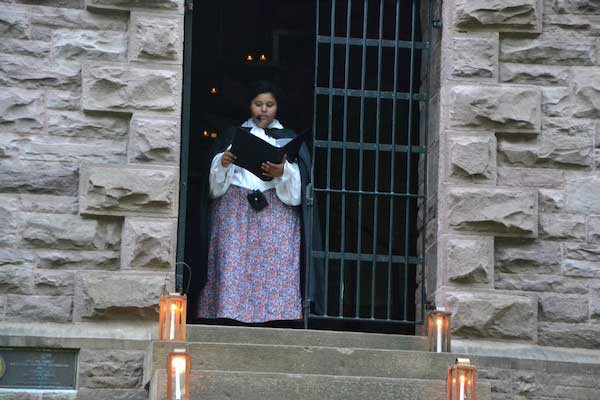 This year's tour included the singing of a song by the late Albion Mayor Donna Rodden. Hannah Brewer sings Rodden's song, "Top of the Tower," at the Civil War Memorial.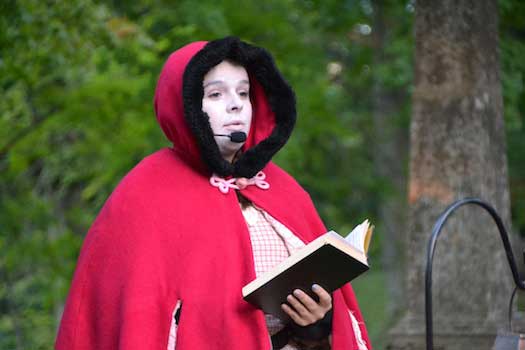 Hannah Van Epps is Caroline Phipps Achilles (March 21, 1812 – January 26, 1881). Caroline taught in a log school house at Gaines Basin at the age of 14. She later taught in a classical school located at the Courthouse Square in Albion. She felt girls and boys should be taught separately and chose to teach girls. Her idea was very successful. She built a larger school to accommodate her students and in 1837 the Phipps Union Female Seminary opened its doors to girls from all over New York State.
Students also portrayed Elizabeth Harriet Denio, Judge Noah Davis, David Hardie, Judge Arad Thomas, Starr Chester, James Lewis and Emily Caroline Minton Pullman, and Elizabeth Josephine Vaile, MD.