Albion student advances in oratorical contest after winning at district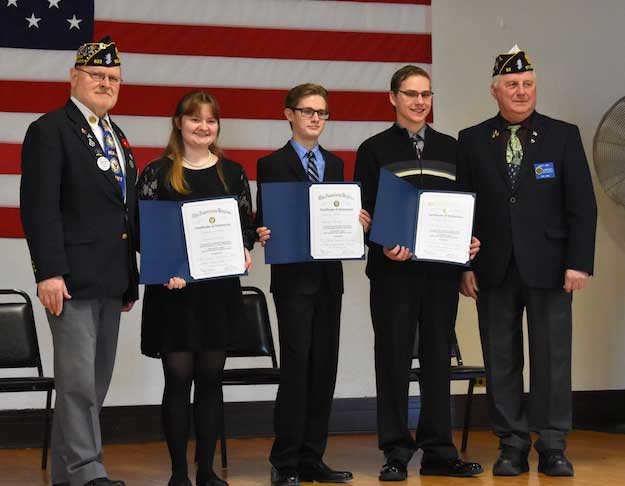 Provided photo
KENMORE – Melissa Barnosky did it again on Sunday. She won an American Legion oratorical contest. Barnosky, a senior at Albion, won the state title last year. She is competing again this school year and won the Albion competition and then at Orleans County. On Sunday she competed at the district competition at Kenmore and came in first place. She advances to the zone competition on Feb. 2 in Mount Morris. If she wins there, she will qualify for the state contest in Albany the first weekend in March.
The students all need to give an 8-10 minute prepared speech on the U.S. Constitution and citizen duties and obligations to the government. Barnosky's topic was "The Key to our Vigilance."
Shawn Calmes, a freshman from Alexander High School, placed second. His topic was "The Constitution is Like a Tree." Gavin Swanson, from Jamestown, placed third. His topic was "Interpretation of Duties and Obligations."
Pictured from left include: Wayne Sorrentino (Oratorical Contest District level vice chairman), Melissa Barnosky, Shawn Calmes, Gavin Swanson, and John Miga, Eighth District Commander for the American Legion.