Albion Rotary presents $3K to scholarship winners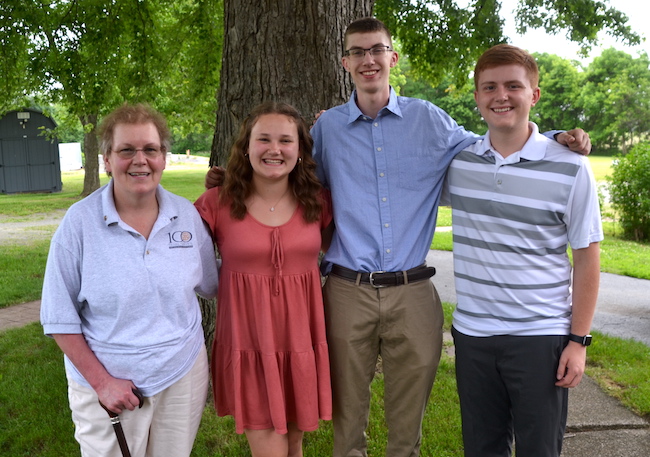 Photo by Tom Rivers
ALBION – The Albion Rotary Club awarded $3,000 in scholarships to graduating seniors today. Pictured, from left, include Rotary Club President Alex Krebs, Leah Kania, Sawyer Braley and James Beach.
James Beach won the $1,250 Edward Archbald Memorial Scholarship, given to a senior who shares Archbald's love of sports, recreational activities, community service and work experience. James has been an honor roll student, who has been active in the music program while playing on the tennis and golf teams. He also is in the chess and robotics clubs. He worked at Tops and volunteered over 100 hours at the Barre Presbyterian Church. He will be majoring in cybersecurity at Rochester Institute of Technology.
Leah Kania won the Dick Eddy "Service Above Self" Scholarship, a $1,250 award that is given to a student committed to community service and leadership, and who displays high potential for future accomplishment. Leah has been very active in the school chorus, band and drama programs. She has been a Student Council officer all four years of high school and is the current president. She is a member of the Rotary Interact Club, Close-Up Club and Multicultural/Diversity Club. Leah is the class valedictorian who gave more than 125 hours of community service. She will major in vocal performance at Baldwin Wallace University in Ohio.
Sawyer Braley was awarded the $500 Rotary Career Advancement Prize for a senior committed to community service, school activities and work experience. Sawyer is an Eagle Scout candidate who has been active on a trapshooting team and on the school's soccer team. He will be in an advanced welding program at the Kentucky Welding Institute.